Asaba International Airport Upgrade Of Infrastructure And Facilities In Progress, Project Completion At Sight.
..SECRET REPORTERS PUBLICATION IS MISCHIEVOUS, UNTRUE - DELTA GOV.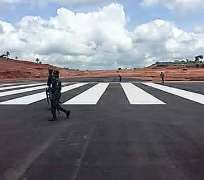 The Asaba International Airport is currently being upgraded to meet required standard for accreditation by aviation regulatory authorities particularly the Federal Ministry of Aviation (FMA), Nigerian Civil Aviation Authority (NCAA) and the International Civil Aviation Organization (ICAO).
His Excellency the Governor of Delta State, Senator Dr Ifeanyi Arthur Okowa during inspection and commissioning of completed and ongoing projects in May this year; paid special attention to the various ongoing projects at the Asaba International Airport (runway construction and rehabilitation, control tower avionics and communication equipment installations, control tower building construction and rehabilitation and general maintenance of equipment and other facilities) in preparation for inspection by aviation regulatory agencies.
The governor and his team of top government officials, aviation consultants and contractors toured the airport to inspect the various stages of work done. The consultants and contractors explained the level of work done so far and the governor was convinced based on advise of aviation consultants that construction and installation work were being followed strictly according to plan and specifications.
In the light of the above, it cannot be true that the contractors handling the construction and or rehabilitation of Asaba International Airport Control Tower used sub-standard hollow blocks or other fake materials as recently alleged by SecretReporters, an online newspaper.
The online newspaper further described the Asaba International Airport as a glorified "motor park," in an attempt to totally condemn the ongoing upgrade of the airport and at the same time tarnish the corporate image of ULO Construction Company, the aviation consultants and the enviable reputation of our amiable governor, Senator Dr Ifeanyi Arthur Okowa.
I had to put a call through to the Editor-in-Chief of SecretReporters, Mr OghenedoroTega aka Fejiro Oliver to express dissatisfaction over the strongly worded report. I made him and the management of his online newspaper to realise that "balanced reports" is an essential integral part of investigative Journalism.
It follows that in an attempt to properly inform the general public on critical and highly technical issues concerning the upgrade of Asaba International Airport, the reporter who filled the report for publication ought to seek the views and opinions of aviation experts and major stakeholders in the aviation sector before declaring the airport either as a "death trap" or as a "motor park." The report did not indicate that SecretReporters did a balanced report devoid of bias and blackmail.
It must be stated that SecretReporters lacked the technical and professional expertise as required in the highly technical aviation sector to rate and grade any airport (local or International airport) for certification. It can only quote or report the views and submissions of experts in the aviation industry.
It must be stated that only certified and or professional bodies are entitled to make open declarations on air and airport safety issues.
It it on this note that the general public and Deltans must of a necessity disregard the vituperation, unbalanced report which deliberately contained blackmail and hate speech, published by SecretReporters.
The online newspaper (SecretReporters) is not licensed by aviation regulatory authorities to conduct airport accreditation related matters. Upon completion of ongoing upgrade of Asaba International Airport, the authorised aviation regulatory agencies will conduct technical inspections for accredition and make their reports known to the general public.
It is a universal truism in the aviation industry that airplanes do not land at motor parks. Two major domestic airlines; Aero Contractors and Airk Air operates daily flights into Asaba International Airport using the DASH 8-300, 400 series aircrafts till date pending full accrediation by regulatory aviation authorities after the completion of the ongoing airport upgrades.
It is also pertinent to inform the general public especially Deltans that after upgrade certification, heavy duty commercial airplanes; B-737-300, 400, 700 series and other fleets shall commence daily scheduled flights into the Asaba International Airport. This is the correct and true position, not the unbalanced and biased report published by SecretReporters.
On the award of contract for the construction and rehabilitation of Mariam Babangida Way Asaba, SecretReporters is strongly advised to contact the Delta State Ministry of Works and the office of the Honourable Commssioner for Works to obtain genuine verifiable facts and not dwell in hear-say, bias and negative speculations.
Gov Okowa's SMART AGENDA is on course and yielding tremendous dividends of democracy for the good people of Delta State.
No amount of blackmail, hate speech, sponsorwd bias reports, name calling and character assasination will deter the Governor from focusing on good governance.
Signed:
Dr (Barrister) Fred Oghenesivbe, M.NIIA
Executive Assistant (Communications)
To
His Excellency the Executive Governor of Delta State, Governor's Office Asaba.
PHOTO BELOW: New Runway under construction and rehabilitation at Asaba International Airport as part of infrastructure upgrade for certification.
PHOTO 2 BBELOW: Aero Contractors Dash 8-300 series operating into Asaba International Airport on daily scheduled flights. Arik Air also operates into the Airport daily with Dash 8-400 series pending the full upgrade of the Airport by which time heavy duty commercial planes; B737-300, 400, 700 series and other fleets will operate into Asaba.