Trump sides with Democrats' short-term debt limit deal on Harvey aid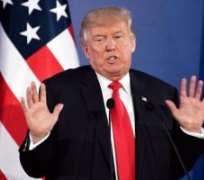 President Donald Trump sided with Democrats on adding a three-month extension of the U.S. debt limit and government spending to a hurricane-relief bill over the arguments of fellow Republicans, who pressed for a longer debt extension, said two people with knowledge of the discussions.
Trump confirmed the agreement an hour after meeting with congressional leaders Wednesday at the White House, telling reporters on Air Force One later that the deal with Democrats would be "very good."
Just hours earlier, House Speaker Paul Ryan — who was in the meeting with Trump — had told reporters the Democratic proposal was "unworkable" and "ridiculous."
The plan would extend the U.S. debt limit and funds to keep the government running through Dec. 15, Democratic leaders said Wednesday.
"Both sides have every intention of avoiding default in December and look forward to working together on the many issues before us," Senate Democratic leader Chuck Schumer and House Democratic leader Nancy Pelosi said in a joint statement after leaders of both parties met with the president.
Treasury futures dropped to session lows after news of the deal. Yields on T-bills maturing Oct. 5 and Oct. 12 extended their drop by another five basis points, while the bill curve steepened from October maturities out to December tenors.
Republican leaders and Treasury Secretary Steven Mnuchin were pushing for a longer-term debt-limit deal, according to a person with knowledge of the meeting. But the president accepted an offer from Democratic leaders for a three-month deal that included funding the government until mid-December.
Just hours earlier, House Speaker Paul Ryan called the Democratic proposal "unworkable" and "ridiculous."
The House passed $7.4 billion for a federal disaster-relief fund two days before it's set to run out. The measure, passed 419-3, is designed to provide relief to tens of thousands of homeowners from flooding caused by Hurricane Harvey in Texas and other parts of the Gulf Coast.
Senate Republican leaders had planned to use the measure to suspend the debt ceiling past the November 2018 congressional elections, but Trump's move upended their strategy.