Actress, Monalisa Chinda Pays Condolence Visit to Eucharia Anunobi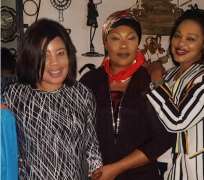 Nollywood actress, Eucharia Anunobi's home has been one place where many visitors have been trooping in and out almost on a daily basis as the actress recently lost her only child.
Eucharia lost her only child, Raymond, who was 15years of age to sickle cell Anemia as he passed on about a week ago.
Raymond has been the actress only source of happiness as she has been the one carrying the cross of her son since her hubby abandoned them several years back.
Some of her industry colleagues have not turned their back against her at this crucial time as they have been paying her condolence visit.
Recently, ever busy Nollywood actress, Monalisa Chinda, paid the actress a visit to sympathize with her with wishes for God to take control and grant her the heart to bear the lose.