Boko Haram Terrorists Now Using Drones In Nigeria And Cameroon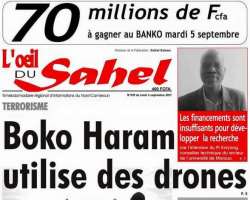 Boko Haram terrorists have acquired new technologies and are now using drones to stage attacks in Cameroon and Nigeria, an authoritative Cameroonian newspaper has reported.
L'Oeil du Sahel, a newspaper that is often first to break Boko Haram stories in Cameroon, reported in its lead story today that the terrorists have started using drones for surveillance and attacks in Cameroon, launching them from the Nigerian side of the border.
Some of the drones were intercepted by the Camerooian military.
The acquisition of the new technology might explain the recent escalation of deadly attacks by Boko Haram in Nigeria and Cameroon.
Just days ago, about twenty Nigerian refugees who had departed the Minawao Refugee Camp in Cameroon, were murdered by Boko Haram in the Nigerian town of Banki.
Reuters reported days after L'Oeil du Sahel and Simon Ateba News Africa broke the story, that those murdered were 18.
So far, in gun and bomb attacks, Boko Haram has massacred more than 25, 000 people in Nigeria since the insurgency began in 2009, and displaced over 2.5 million others.
In neighboring Cameroon, more than two thousand civilians have been killed since 2014 and hundreds of thousands have fled their homes.
Cameroonian and Nigerian authorities have been vowing that the terrorists, led by Abubakar Shekau, would be crushed, but as days turned into weeks and weeks into months then years, those claims have proved to be false.