POPE CALLS FOR OBSERVANCE OF HUMAN RIGHTS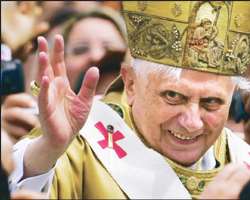 Pope Benedict XVI
As the international conference on the challenges of human interactions through mobility ended on Monday, in the Vatican City, Pope Benedict XVI has called on government authorities across the world to observe human rights and dignity in their dealings with migrants and itinerant people.
The Pope stated this on Monday while receiving in audience selected plenary speakers at the conference, including Nigeria's Corps Marshal and Chief Executive of the Federal Road Safety Corps, Osita Chidoka, who was one of the plenary speakers during the just-concluded event at the Vatican City.
According to the Pope, the observance of fundamental human rights can be the focal point of the commitment to shared responsibility of national and international institutions.
'In a globalising society, the common good and commitment to obtain it cannot take the size of whole human family, namely the community of peoples and nations,' he stated.
'The future of our society rests on the resolutions between peoples, dialogue between cultures and respecting the identity of legitimate differences. In this scenario, the family retains the role,' he said.
The Pope submitted that, 'The Church, with the Gospel of Christ in every area of life, pursues efforts to promote not only the individual migrant, but also of its family, place and resource of life factor and the integration of values.'
Earlier at the plenary session, Chidoka called on religious leaders, civil society groups and non-governmental organisations to join hands with government at all levels in the fight against road traffic crashes in the spirit of collective responsibility.
He said this became imperative in view of the increasing rate of road carnage at the global level, with sub-Saharan Africa alone accounting for 10 per cent of the statistics, while Nigeria and South Africa account for about 50 per cent of the figure.
'Religious institutions, especially the Church must be in the lead to change people's mindset towards driving. Road accident is no accident, hence driving to work, school, church or leisure should be devoid of mishaps,' he stated.
'Road safety is a shared responsibility and we must demonstrate to the almighty God that we could never allow the beauty of His creation be destroyed or incapacitated. Through mutual respect and right attitude, achieving a safe motoring society may not be beyond our collective dream,' he added.
The three-day international conference drew participants from Europe, America and Africa with Bishops and Priests in attendance. Nigeria's Corps Marshal was the only plenary speaker from Africa at the occasion.