Benue Flood: Victims Lament Over Poor State Of IDP Camp, Say Hunger Killing Us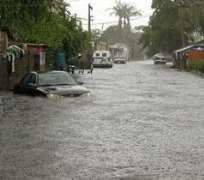 The manager of the camp hosting persons displaced by the Makurdi flood, Mr. James Iorhuna, has decried the poor state of social and medical facilities at the camp.
Iorhuna told the News Agency of Nigeria on Saturday in Makurdi that the camp, located at the Makurdi International Market, was "not habitable."
"Internally Displaced Persons faced with health challenges have no place for medical attention; with 450 households already registered here, there is an urgent need for more facilities," he said.
Iorhuna particularly regretted that the camp had no food, mosquito nets, health facilities, mattresses and other essentials that could guarantee minimum comfort for the flood victims.
"The IDPs have nothing to eat. They are still waiting for the relief materials promised by government. For now, everyone is helpless," he said.
Also speaking, Mr. Terwase Tarkende, an IDP, said there was no facility "for the most minimum comfort."
Tarkende said his son, James, who took ill two days ago, had been starving and without any medical attention due to lack of funds.
Another IDP, Mrs. Rosemary Audu, who is in the camp with her five children, complained of hunger.
"We have not seen food since we arrived the camp," she said.
She appealed to the government to make immediate arrangements for feeding to avoid health complications arising from hunger.Punch