SENATE PROTESTS GHANA'S ANTI-NIGERIAN ECONOMIC POLICIES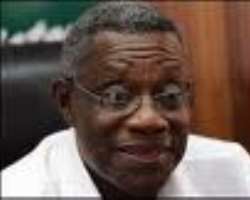 President John Attah Mills of Ghana
President of the Senate, David Mark, has protested the difficult conditions set for Nigerians doing business in Ghana, saying it is against the spirit of African brotherhood.
Mark directed his protest to President John Attah Mills of Ghana, when he visited Accra on Sunday.
A statement from the Senate President's office on Monday, signed by his Chief Press Secretary, Mr. Paul Mumeh, said Mark urged the Ghanaian authorities to review what he described as the 'harsh economic conditions' imposed on the Nigerian business community in the interest of both nations.
According to him, the conditions negate the principles of brotherhood and the spirit of the Economic Community of West African States protocol.
Mark, who was in Accra for a reception held in his honour by the Nigerian Ambassador to Ghana, Senator Musiliu Obanikoro, noted that the $300,000 (about N45.7m) threshold deposit imposed on Nigerian businessmen in Ghana was too high to be met.
Besides the fee, such an entrepreneur under the condition must employ no fewer than 10 Ghanaians before he or she would be licensed to do business in Ghana.
Mark, however, reminded the Ghanaian authorities that such conditions would push Nigerian nationals doing genuine business out of the market.
He said, 'Our appeal is for the Ghanaian authorities to review the conditions. We should at this point be able to build on the good brotherly relationship that has existed between Ghana and Nigeria over the years.
'We must discuss it and resolve it as brothers as quickly as possible. We should not do anything that will undermine our long standing relationship.'
He stressed the need for ECOWAS countries to respect the protocol on free trade and movement between and among member countries.
He said, 'It is the spirit of ECOWAS for member countries and nationals to have free passage across the borders. We should look kindly at each other and dismantle the barriers across our borders.'
Mark further tasked ECOWAS parliamentarians to promulgate enforceable laws among member nations, noting that any law that was not enforceable was not worth making.
Speaking in the same vein, Ambassador Obanikoro noted that the harsh operating conditions imposed on Nigerians doing business in Ghana were brewing tension and urged that Ghana should review them.
He said that the government of Ghana had the right to protect its citizens but reminded the country of the existing ECOWAS protocol of free trade among member states.
The first Deputy Speaker of the Ghanaian Parliament, Hon. Essien Adjao, said the parliament would examine the complaints of foreigners in the country with a view to making the environment conducive for investment.
Adjao commended the government and people of Nigeria for the mature way the political crisis occasioned by the ill-health of the late former President Umaru Yar'Adua was resolved.