Alex Oxlade-Chamberlain reportedly rejects Chelsea over concerns about his preferred position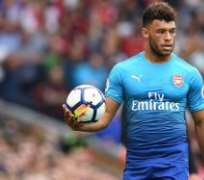 Despite Chelsea agreeing a fee with Arsenal, Alex Oxlade-Chamberlain has reportedly rejected a West London move due to concerns about his playing position.
The deal seemed all but done. Chelsea and Arsenal had agreed a fee, all that was needed was for Alex Oxlade-Chamberlain to sign on the dotted line. However, the latest reports claim that the Englishman has turned down a Blues move.
According to  BBC Sport , Oxlade-Chamberlain has not taken too well to Chelsea's desire to use him at wingback. Instead, a Liverpool switch is more appealing.
Oxlade-Chamberlain believes the Blues planned to use him at wing-back, and his primary reason for wanting to leave Arsenal is to play in central midfield. The 24-year-old England international wants to move to Liverpool.
Common consensus coming out of North London claimed that Oxlade-Chamberlain was unhappy with his wingback role. His eagerness to leave Arsenal was borne out of a wish to play more centrally.
Chelsea have been trailing the 24-year-old for a month or so, but as a potential wingback target. As the Blues look for someone to compete with (and cover for) Victor Moses and Marcos Alonso, Oxlade-Chamberlain has been identified as a potential last-minute signing.
Evidently, the Arsenal man truly wants to revert to a more familiar position further forward and more central. If he wanted to leave Arsenal due to the club's inherent crisis, he would have accepted whatever role Conte was offering.
To be fair to Oxlade-Chamberlain, it seems that he will only leave Arsenal if he can play in the role he deems himself to be best.
This leaves Chelsea in a pickle, though. With just under 48 hours left to go in the transfer window, they are still painfully short in wingback depth. Injuries to Moses or Alonso could wreak havoc in West London. Cesar Azpilicueta and Pedro will be required to stand by as emergency deputies.