Shell starts gas production at Gbarain-Ubie Phase 2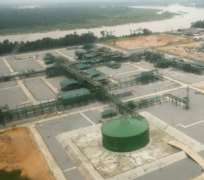 Shell Petroleum Development Company (SPDC) of Nigeria said on Wednesday that it has started production at Gbaran-Ubie Phase 2, a key gas project in Nigeria.
Phase 2 follows the success of the first phase of the Gbaran-Ubie integrated oil and gas development in the Niger Delta, commissioned in June 2010.
Peak production of around 175,000 barrels of oil equivalent per day is expected in 2019, said Shell.
It added that a detailed breakdown of peak production of Gbaran-Ubie Phase 2 is some 864 million cubic feet per day of gas and 26,000 barrels of condensate per day.
"Wednesday's announcement is a positive step for Shell' global gas portfolio," said Andy Brown, Shell's Upstream Director. "It is also good news for Nigeria as gas from Gbaran-Ubie Phase 2 will strengthen supply to the domestic market and maintain supply to the export market."
18 wells have been drilled and a new pip constructed between Kolo Creek and Soku which connects the existing Gbaran-Ubie central processing facility to the Soku non-associated gas plant. First gas flowed from the well sin March 2016, with the facilities coming on stream July 2017.
SPDC is the operator of a joint venture between the Nigerian National Petroleum Corporation (NNPC) with 55%, Shell-owned SPDC 30%, Total 10% and ENI 5%.
Shell took the final investment decision on Gbaran Phase 2 in June 2013. Its web site said the project will ensure continued gas supply to the Nigeria LNG plant and a power plant at Gbaran, both in the Niger Delta.
Furthermore, Shell says it is moving ahead on four other smaller projects that together will maintain feed gas supplies to NLNG, as well as the Southern Swamp Associated gas Solutions project which aims to monetize more of the gas produced with oil in the region.
Source:
Natural Gas World