UCHE NWOSU'S UNEQUAL-YOKE MARRIAGE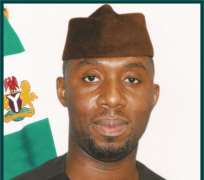 "Do not be yoked together with unbelievers. For what do righteousness and wickedness have in common? Or what fellowship can light have with darkness?_ 2 Corinthians 6:14*
From all discernible intents and purposes, Governor Rochas Okorocha of Imo State, the very fatal accident to happen on Imo State, and his son-in-law and Chief of Staff to the Governor, Hon Uche Nwosu, who has been wickedly penciled down as Okorocha's successor, are behaving like the ungrateful *nza*, which after it had a sumptuous meal challenged its god to a public fight. Growing up, I was told that ingratitude was loathsome. But this is what our Governor and his son-in-law are doing. They have become distastefully ungrateful.
Part of the reason for this loathsome ingratitude is the fear of tomorrow. Governor Okorocha and his son-in-law have acquired wealth that many people in the state have described as questionable. Overnight, Okorocha's university springs up in Imo. Overnight Okorocha's estate springs up. And he is the first Imo Governor to commit these atrocities with annoying impunity. Overnight his son-in-law becomes a guru in Real Estate. This is outside claims by many people in Imo State that their lands have been cornered for personal uses by top government officials. Yes, they told the Governor so in his own organized event at Freedom Square.
You would see that all of a sudden all the concessioned public assets have become worse than when they were managed by the government. From Adapalm to ITC to Imo Shoe Company (of course, Imo Shie Company has been sealed by the Federal High Court in Owerri), have gone down to the list of had-before. In some instances we heard that the concessionaires have no documents to show for their investments. Nothing is working.
No matter how much was realised by the government in the concessions, should a government be involved in smart dealings and shortchange investors? Should the government continue to destroy or dislocate investments in the state in the name of road dualization? How much pain should the people take from the government? Should the state government have destroyed Rockview Hotel, Owerri, when jobs are scarce commodities in the state? Should the Governor not rather encourage investments in the state?
This is why none of the "sold" hospitals are working. Not only are they not working, the much touted 27 general hospitals are not working either, but are habitat for rodents and reptiles. It is natural to think that a man who engaged in shoddy deals as these would at least want to watch his back, isn't it?
Furthermore, Imo people have not forgotten that the only person Governor Okorocha is grateful to in Imo State is Uche Nwosu. We saw this on time as far back as 2014/15 and we cried out, that Imo people should reject Okorocha. But we were rebuffed. We said he would begin building his empire thenceforth. But who listened? Instead, "just like in the days of Noah, many were drinking and making merry" while Okorocha laid the foundation for his empire.
We cried that part of the foundation for the empire or Okorocha's Tower of Babel was to deceptively make Uche Nwosu the governorship candidate of the APC in 2015 and to allow the Governor take it back from him upon his return from his Abuja charade when he contested the presidential primary election of his party in 2014. This was the beginning of the move to crown Uche Nwosu the governor of Imo in 2019. It is a pity really that the Governor was returned in 2015.
To actualise this plan Uche Nwosu has been painted and re-painted in many colours. He has been dressed in several borrowed gabs. And I think this man must have seen a lot of powder, pancake and brushes on his face on his climb to the gleam.
Everything is being done to present Uche Nwosu as a good person. And suddenly he has become a competent hand whose capacity has been there for years. But those who promote this paper-genus forget in a hurry that they had inundated us with their claim that he did not pass the 10,000 jobs interview organised by the Ikedi Ohakim government, and as a result did not get the job. If you doubt, please ask FCC Jones Onwuasoanya. Is it not insulting that this same person is now presented in white garment? I used to think that government was about excellence and not mediocrity. Can Uche Nwosu feature in Imo first eleven in any ramifications, except where the government favours mediocrity?
Apart from presenting Nwosu as a genus on paper, he has been falsely presented as a philanthropist, often dolling out cash and other materials. And with the recent launching of Elfreeda Foundation he has taken after the style of his father-in-law. But all this is hogwash, only to give him the identity he does not have.
From nowhere Uche is being given the appearance of a lover of the youths. This resembles the Senior Advocate of the Masses mantra of 2011. But we are assured that no one can deceive all the people all the time. Thus we thank God that while the Governor and his son-in-law keep behaving like the proverbial ostrich, they have stripped themselves naked at the market square. Children have seen their hidden parts and laughed them to scorn.
Governor Okorocha does not have any respect for the sensibility of Imo people. He sees us as pawn on his chessboard. That is why he would rather see an impoverished Imo than create Imo of great opportunities. To illustrate this, the only reward Imo people have got from the clueless Okorocha government is destruction. It is either the Governor destroys what he met on ground or he destroys what he made, or both. This is the reason for the myriad of substandard projects that have consumed our common wealth. The Okigwe Road being dualized by the government has also broken down, and you would think the road was built 10 years ago.
This show of ingratitude is exacerbated by the fact that Governor, like the egg that believes erroneously that it hatched itself, Governor Okorocha wants us to believe that he made himself Governor for two terms.
He would rather give the credit of his happenstance as Governor of Imo to the North, instead of admitting the roles Senator Hope Uzodimma, Chief Martin Agbaso, Chief Victor Umeh, etc, played in his emergence. He also would want no one know that he was heavily backed by the unfriendly presidency that worked against Ikedi Ohakim because of his loyalty to late President Yar'Adua. But today they now know the meaning of loyalty, and they crave for it.
Okorocha would rather sing aloud that Imo people rejected Ohakim. But all that is what it is: a lie. Okorocha was lucky to ride on a docile Imo electorate who swallowed all the harmful pills presented before them. Today, Imo people, because they now know better, look back at 2011 with nothing but cursing and regret.
Rather than admit that he took advantage of the naivety of the 2011 Imo voters, Okorocha would tell us the story of the poor Jos Boy that rose from grass to grace. He would rather thank the North, as if the North crowns kings in Igbo land.
It is in furthering the embarrassing deception of the Imo people that Uche Nwosu was on Saturday, 19 August, 2017, turbaned in Bauchi State as Dansaki Dass. The Uche Nwosu turbanning was not for love of the North but to give the fake impression that he is well travelled, exposed and detribalized politician. The turbanning was solely a political gimmick to place Uche on a political pedestal he is not.
But despite the level of façade Uche Nwosu gets as packaging, we cannot entrust our collective future to a man whose only license to opulence is that he married the Governor's daughter. We can no longer trust men whose source of wealth is only traceable to their days in government house. If you have read the recent publications that Uche Nwosu is among the six multi millionaires created by the Okorocha's government, you would know that never again should we trust men of questionable pedigree. Never again.