The Alarming Rate of Youths in Crime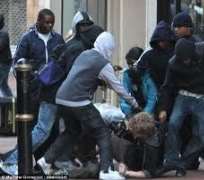 It is so bad and saddening that the youths of the day now engage in all forms of immoral behaviors. From burglary to stealing to kidnapping to cyber crime and man slaughter in various forms, the youths are, as surprising as it is, found to be in the major and leading roles.
Try check the Police Stations, go to the Courts and be ready to be surprised at the offences the young faces staring at you are charged with. Are these the leaders of tomorrow? Are these the people, power are to be handed over to? People being advocated that they are not too young to run? These and other disturbing questions are likely to cross your mind as you hear what the youths of the day now engage in.
While parading a 23-year old fraudster, Agboola Femi who duped an American man of 80,000 dollars at the Police Headquarters in Osogbo, Osun State, the State Commissioner of Police, Olafimihan Adeoye decried the rate at which young people now get involved in crimes.
He noted that the youths do not want to work any longer and expressed his sadness at how the youths, through all such acts as Femis', damage the image of the country and other Nigerians abroad.
The story of Femi got more nauseating when he couldn't state the specific reason he ventured into internet fraud, he said he just felt it was the right to do at that moment.
Look at the leaders of tomorrow. It is really disheartening this is the kind of society we now find ourselves.
What about 24-year old Oladapo Dolapo who was already an ex-convict at this age and was even rearrested for allegedly stabbing a man to death, what about 18-year old Abdulkareem Ismail who was sentenced to one year imprisonment for stealing N691,000 recharge card meant for his boss, what about the gang of 19-year old Abdulrafiu Zakariyau and 18-year old Yusuf Aliu who allegedly killed and disembodied a 400 level student of Osun State University, Oluwafemi Shonibare or 23-year old Olayinka Shefiu who had become a millionaire and had even built two houses from reselling stolen motorcycles?
The list is inexhaustible, as much as all these aforementioned events happened in Osun State, the rate is the same in other States of the country.
Probably the causes of all these are not far fetched; unemployment, bad company, lack of mentorship, lack of parental care, the zeal to get rich as soon as possible and through whatever means, lack of proper guidance, poverty and the likes.
But what happens when the youths in a society want to get rich without working and are desperately looking for whatever possible means? Surely, such society is doomed to crash.
The effects of our youths engaging in crimes cannot be over emphasized; they are, after all, the leaders of tomorrow. If our leaders who spent their youth gracefully are now so bad and have turned their public positions to their family businesses, what would happen when our already corrupt youths get to the seat of power? The unimaginable, I am sure!
So what is the solution to all these? Doesn't charity begin at home? The family has a major role to play, what could a father who gambles, who is busy trying to find how his N20 would become N10,000, a father who smokes, possibly pass to his children? Or a mother who tells her son to do all he can to make money as the family depends on him, wouldn't such a boy be pushed to think of any means possible to make money?
What about our leaders themselves? What example could a Commissioner or Governor or President who embezzles money be to his followers, wouldn't they want to follow his foot step too? after all, the Commissioner got away from it, why don't we try it too? Isn't money and connection all that matter now?
Or what does the Government that refused to create jobs as campaigned expect? Wouldn't it people look for other means? And that is why everybody has a role to play in ridding our society of this problem. In truth, some youths were forced to commit crimes.
The Family has to play its part just as the Government must not evade its duty of making lives comfortable for the people. The youths are the leaders of tomorrow, they deserve all care and guidance.
Disclaimer:

"The views/contents expressed in this article are the sole responsibility of

Nofisat Marindoti, The Nigerian Voice, Osogbo

and do not necessarily reflect those of The Nigerian Voice. The Nigerian Voice will not be responsible or liable for any inaccurate or incorrect statements contained in this article."
Articles by Nofisat Marindoti, The Nigerian Voice, Osogbo