Nigerian Woman elected the President of the African Conference of Political Parties,
Congratulations: Hajia Dr. Ramatu Tijjani It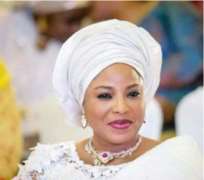 It was a keenly contested election, and very unusual to defeat incumbent in any election around
the world but Hajia Dr. Ramatu Tijjani did. She used her eloquent soothing voice, including her
generic ideology to a logical extent, prescribing simple sustainable solutions with plans, healthy
choices in her very rich manifestoes. She profusely argued to show example, transparent and to
make herself available as needed. In view of these statements, Hajia Ramatu Tijjani Aliyu defeated
her opponent and incumbent president of Conference of African Political (CAAP)
Dr. Davis Mwawi; also, an incumbent Secretary General of the ruling party in Zambia after an
election and a rerun to a most deserved victory that unshared her in as the first female president of
CAAP. She was chosen here at the headquarters of CAAP in Khartoum - Sudan by delegates at
the conference. Interestingly, Dr. Tijjani was the immediate past president of the Women Wing of
the Conference of African Political Parties and now leads.
The Council of African Political Parties is a non-governmental organization established by 47
African Political Parties in the constitutive conference held in Khartoum, Sudan on 27/28 April
2013. The third meeting of the General Assembly was held in Khartoum, Sudan, 19-20 August
2017.
The meeting agenda of the General Assembly are: -
• Elections of the leadership and Bodies of the Council as follows:
• Election of the President of CAPP, the five Vices-President and members of the Standing
Committee.
• Election of the Executive Committee of CAPP.
Hajia Ramatu Tijjani Aliyu in her acceptance speech, motivationally thanked delegates and
African leaders for entrusting her with this overwhelming task. Assured Nigerians not to let them
down in the discharge of her new duties. She could not hold her pleasurable gladness, without
thanking the President Muhammadu Buhari for his continued support for: women, youths and
gender inclusiveness and agile war against corruption, terrorism and eradication of poverty not
only in Nigeria but the entire African continent. According to her, this victory is very timely and
commemorates the good health and arrival of Mr. President from London. In summary,
acknowledged her party.
Francis John
HOPe Africa USA
Kansas City, Missouri