Concessionaires short-listed for Kirikiri Lighter Terminal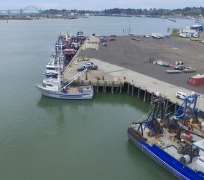 The Acting Director-General of the Infrastructure Concession Regulatory Commission (ICRC), Mr. Chidi Izuwah, has said that concessionaires have been short-listed for concessioning exercise at the Kirikiri Lighter Terminal.
Izuwah said in an interview that the Outline Business Case for the fishing terminal has also been concluded. He explained that concessioning this part of the nation's port facilities was to ensure that the facilities were used maximally while earning monies for both government and the concessionaires.
Recall that Izuwah who visited fishing trawling firms in Kirikiri, had told the occupants of both the phase one and two to brace up for the forth-coming concession exercise of the terminal so as not to lose out in the process.
He advised them to form a consortium with a view to coming up with formidable bidding team. While maintaining that Public Private Partnership (PPP) remained the best option to finance infrastructure gap, he said that with the present economic situation, government cannot muster the kind of funding needed to build more infrastructure.
In rendering an unbiased assessment of the performance of Nigeria's commercial fishing industry over time, a former NAtional President of the Nigerian Trawler Owners Association (NITOA), Magaret Orakwusi told M&P Nigeria that the multi-billion naira business is hamstrung by acute infrastructure deficit which fuelled an exodus of fishing trawler companies from Nigeria in search of more conducive operational environments. Consequently, the number of trawlers in Nigeria's fleet plummeted from over 300 to about 25 vessels in a very short time.
Orakwusi also identified the lack ofwill to designate KLT an international fishing terminal as the major obstacle to the development of the tremendously lucrative industry in Nigeria. According to her, an international fishing terminal would provide landing bases, fuel dump, carpentry workshop, engineering workshops, clinics, cold rooms, all the facilities that are needed for fish trawling business.
"This way, operators do not have to rack up astronomical overhead costs by building jetties, which cost billions by the way, or having to own practically everything like cold rooms, refrigerated trucks etc.", she said.
Reaffirming the ICRC's commitment to revitalise the fishing terminal, Izuwah said, "The public private partnership (PPP) should not be seen as privatisation; PPP allows the private sector to repair and rebuild infrastructure as well as recoup their investment for a stipulated time. The ICRC is involved in the monitoring of the projects to ensure delivery at the expected time."
He said that the Federal Government was not buoyant to invest in such new projects, except in partnership with the private sector.
Source:
M&P Nigeria