Don't Cage President Goodluck Jonathan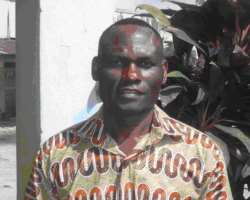 Hon. Goodluck Diigbo MOSOP President / Spokesman
MOSOP President / Spokesman Goodluck Diigbo Cautions Nigerian Politicians to learn from Athens of late 460s that deliberately shifted balance of power to the poor to achieve political stability
In 2011, to keep Nigeria one and stable, Nigeria needs a new brand of politics that is inclusive, not exclusive and a zero-tolerance for zoning elective offices, Diigbo said while reacting to NBF news suggesting that former governor Lam Adesina of Oyo state wants president Jonathan to stay out of 2011 Aso Rock contest.
Zoning or excluding a candidate is a strange subject-matter in an open democracy where basic rights and freedoms of the citizens are at stake. I hope Lam Adesina can stand up against the outdated PDP selective appointment strategy. His focus should be how to promote a transparent system, and not to dictate who should or cannot contest to become president of Nigeria. In a true democracy: to vote and be voted for is a basic right.
I am deeply concerned about the impact of the status quo, which may be the unintended consequence of Adesina's logic bent on excluding President Goodluck Jonathan from 2011 Aso Rock Contest. Excluding Jonathan is the parallel of the old corrupt politics of carry-over and carry-go that should have no place in a democracy. By selecting a zone or whosoever Adesina may be contemplating as "suitable" for 2011 is to diminish the merit of any new electoral reform. New ways of thinking should foster how to overcome past PDP counterfeit elections, and not inadvertently demanding for what we must loathe. The focus on President Jonathan seems presumptuous that any PDP candidate will win again. We should be talking about how to make the government work for the people.
The most basic form of democracy is described as a government of the people, for the people and managed by the people. Zoning will deprive the people of control and pave way for despotism or a person centered autocratic rule as was experienced under the regime of General Ibrahim Babangida. The regime was able to stifle voices of rational dissent and deny the general safeguard of constitutional basic rights of Nigerians.
Babangida thus became the antithesis of democracy in Nigeria by annulling the June 12, 1993 Presidential Election won by Chief M. K. O. Abiola. In this way, he constructed the military framework to hang the Ogoni Nine, including Ken Saro-Wiwa by handing over power to Puppet Ernest Shonekan expected to be supplanted by his soul mate, General Sani Abacha. Due to his protracted military dictatorship individuals that profited by his misrule have come back to hijack PDP in the name of zoning. The challenge of lack of a standard constitution is the reason zoning finds its way into the political discourse. Where there is a generally acceptable constitution, zoning will have no way of rearing its ugly head beyond political party internal plan.
A new constitution should encourage the rural people, young people and poorest Nigerians to control their political destiny and demand a greater say in the running of their national, state and local government. What I expect to happen in 2011 is the drastic shifting of power from political party warlords to ordinary people. This will be the beginning of laying a solid foundation for rational and critical thought process in the management of Nigeria's human and material resources to achieve equity and stability.
I remember what happened in the late 460s when Ephialtes and Pericles deliberately shifted the balance of power to the poorest sections of Athens. This was the democratic Athens that prevailed and passed the stage to Aeschylus, Sophocles, Euripides and Aristophanes. They eventually laid foundations for western rational and critical thought. Athens successfully resisted the Persian onslaughts of 490 and 480/79, because Athens was stable. The test occured at the battles of Marathon and Salamis. I believe that Nigeria can change and become stable.
I do not see how keeping out Jonathan who is vowing to bring about change through the reform of the electoral process can help Adesina's priorities. Already, Adesina has said, reforming the electoral process should be one of his priorities. Jonathan should get the reform done and put it into practice. If Jonathan wins his party nomination, then he should carry the PDP flag. He should not be excluded to give way to "an appropriate candidate or zone" that might simply sabotage the electoral law in the belief that winning the presidency is a birthright of PDP.
I recommend zero-tolerance for zoning elective offices in Nigeria. Let any citizen that is competent be free from the North, South, East and West, Middle Belt, Ogoni and Niger Delta, among others bear the PDP flag. Even though, I very much doubt that PDP will be returned to Aso Rock. The reason that 2011 will be different is that Nigerians want change and Nigeria can change.
Only change can bring about the right priorities, which should include a new constitution crafted according to the wishes of a Sovereign National Conference (SNC). The SNC must be one constituted on the basis of equality of ethnic representation, which means inclusiveness of all ethnic groups. A new constitution can ensure that the idea of zoning elective offices is discarded. No new constitution can tolerate zoning of elective office if the system works the way democracy ought to work, giving everyone the right to contest. Zoning is corrupt, exclusive, primitive and anti-democracy. While zoning has its merit in power-sharing, it has not worked in Nigeria.
For instance, PDP zoning of a local council seat in 2004 had caused bloodshed in my home country of Teyork, Ogoni. The zoning that was put in place led to destruction, mass killing and forced over 40,000 people into exile from 2004 to 2007. This happened under the overexcited former Rivers State Governor Peter Odili, who presided over the zoning. Nigeria must be prepared for a political overhauling to change from old to new politics; if the American Presidential System that was adopted by Nigeria is to become useful. What has happened in Rivers State without a formal governorship election for over two years cannot stand in the United States of America.
The other thing to be done is to strengthen the Judiciary for effective dispensation in electoral disputes. Without a conscientious judicial process, the Nigeria and US April 2010 Bi-national Commission Agreement signed with US Under-Secretary of State for Global Affairs Maria Otero will be a waste of time. One of the focal points of the agreement is the ongoing electoral reform and next year's general election. Like in the US, an effective judiciary should provide a safeguard for Nigeria's presidential system of government.
Goodluck Diigbo
MOSOP President/Spokesman,
President, Partnership for Indigenous Peoples Environment, which is a United States based international organization operating in special consultative status with the Economic and Social Council (ECOSOC) of the United Nations.