Prof. Osinbanjo Inaugurates Armed Forces With Human Rights Panel
"...the failure of the justice system to adequately respond to crises is a recipe for greater conflict"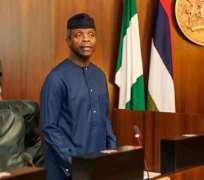 The acting President, His Excellency, Prof. Yemi Osinbanjo, on the 11th August, 2017 inuagurated the Presidential panel to review compliance of the armed forces with human rights obligation and rules of engagement. Below is the text of his speech at the inuaguration ceremony:
1. I have the important special Responsibility this morning of inauguration of thePresidential Investigation Panel to Review Compliance of the Armed Forces with Human Rights Obligations and Rules of Engagement
2. The President has repeatedly stated our administration's focus on three broad issues – security, the economy and corruption. The first, security is one without which others may prove impossible.In any event, fundamental to the functions of the State is the protection of lives, property and livelihoods of citizens in peace or conflict. For our government, we add that respect for the lives of Nigerian citizens is not just a constitutional but also a moral duty.
3. This is why it is incumbent upon us even as we maintain security especially in conflict situations to interrogate alleged crimes and human rights abuses by all sides in these conflicts and insurgencies. Today's occasion is a continuation of efforts of this Administration geared towards attaining this goal.
4. You may recall that in June 2015, President MuhammaduBuhari had directed the military to conduct an internal inquiry into allegations of rights abuses by its personnel. Accordingly, a report of the findings of a Board of Inquiry set up by the Nigerian Army to investigate extra-judicial killings and rights violations by Army personnel was submitted in June 2017. More recently in October 2016, the President ordered the Inspector-General of Police to investigate sexual abuse and exploitation in IDP camps in the Northeast. The outcome of this investigation is being awaited.
5. It is a well-known fact that the conduct of the country's defence and security forces during the insurgency in the Northeast and militancy in the Niger Delta has in recent times attracted significant commendation. Upon assumption of office, many will recall that although up to seven Local Government Areas were under the control of Boko Haram, virtually all of the territory has now been recovered by security forces. In the recent past, the security forces also fought against militants in the creeks of the Niger Delta to protect critical national infrastructure and our natural resources.
6. These brave men and women that have fought valiantly to keep this country safe despite all odds are heroes that we must celebrate. And we will celebrate them. There is no doubt that the asymmetric or unconventional warfare they have had to contend with presents unique challenges most modern armies are ill-equipped to tackle with conventional warfare tactics.
7. Nonetheless, there have been a series of allegations levelled against the security forces by some local and international commentators. It is our belief that if left unaddressed, these allegations are capable of undermining the good work and efforts of the men and women of the Armed Forces who have largely conducted themselves in a disciplined and professional manner. Failure to examine these allegations will also leave those who may have been victims of such abuses without any recourse to justice.
8. And if history has taught us anything, it is that the failure of the justice system to adequately respond to crises is a recipe for greater conflict. It is in light of the foregoing that I have mandated the Panel to focus on the following in their terms of reference:
a. To review extant rules of engagement applicable in the Armed Forces of Nigeria and the extent of compliance thereto;
b. To investigate alleged acts of violation of international humanitarian and human rights law under the Constitution of the Federal Republic of Nigeria, 1999 (as amended), Geneva Conventions Act, African Charter on Human and Peoples' Rights (Ratification and Enforcement) Act and other relevant laws by the Armed Forces in local conflicts and insurgencies;
c. To investigate matters of conduct and discipline in the Armed Forces in local conflicts and insurgencies;
d. To recommend means of preventing violations of international humanitarian and human rights law in conflict situations; and
e. To make further recommendations in line with these terms of reference as may be deemed necessary.
9. I would like to use this opportunity to assure the Armed Forces that this exercise is not a witch-hunt in any way. The sterling qualification of members of the Panel under the capable leadership of Honourable Justice BiobeleGeorgewill, Justice of the Court of Appeal, is a strong indication of the quality of work expected of them. The other members of the Panel are:
a. Major-General Patrick Akem;
b. Mr. Olawale Fapohunda;
c. Mrs. Hauwa Ibrahim;
d. Mr. Jibrin Ibrahim;
e. Mr. Abba Ambudashi Ibrahim;
f. Mrs. IfeomaNwakama; and
g. Dr. Fatima Alkali as counsel to the Panel.
10. I am therefore confident that the Panel will also collect information about the conditions of service of the Armed Forces or any other factors that might have hindered the optimal performance of the Armed Forces in the fight against insurgents, militants and other combatants. I therefore wish to assure the members of our Armed Forces that this Administration stands ready to support you in your endeavours; evidence of which you may have seen with the recent purchases of the five new super Mushak aircraft, for example.
11. To the Panel, I implore you to carry out your duties diligently, impartially and with all sense of professionalism. The work you are about to embark on is extremely sensitive and may involve travel to risky post-conflict zones. We appreciate your acceptance of this call to duty and look forward to receiving your well-researched findings and recommendations.
12. With these few words, I hereby officially inaugurate this Presidential Investigation Panel to Review Compliance of the Armed Forces with Human Rights Obligations and Rules of Engagement.