Cabals are still in charge, Osinbajo is mere figurehead: PDP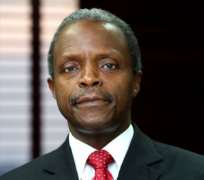 THE Peoples Democratic Party has taken a swipe at acting President Yemi Osinbajo, for his inability to take decisive actions on some critical national issues.
For the PDP, Osinbajo is a mere figurehead whose authority is being undermined by the now famed cabal at the presidency.
Spokesperson of the PDP, Dayo Adeyeye, who spoke on Sunday, August 13 said that if Osinbajo was truly in charge, he would have assigned portfolios to the two ministers that were sworn in more than two weeks ago.
President Muhammadu Buhari travelled to the United Kingdom on medical vacation since May.
He duly handed over power to Osinbajo, but here have been signals during budget signing, swearing of ministers and  other. instances that call the question whether he is actually in charge.
For the PDP, it clear that theOgun State-born pastor/ politician  was not in power and that the government was being run by a cabal.
Indeed, Stephen Ocheni from Kogi State and Suleiman Hassan from Gombe State were sworn in after weeks of delay but have not been assigned portfolios yet. Adeyeye said: "The acting president is not in charge of the country. He is not in charge of anything. This is why nothing is moving forward.
"How do you explain a situation where two of the ministers who were sworn in after much pressure from the people and the National Assembly have not been assigned portfolios?
"He is not in charge. He is a mere figurehead and cannot do anything. The cabals are still in charge. That is why nothing is moving forward in this country.
"The two ministers are just idle. They have no offices, nowhere to resume to and nothing to do. What is the essence of their being sworn in then? They are ministers without portfolios.
"It is a constitutional breach on the side of the government because each state ought to have a minister each. Now, these two states had been without ministers for long and after you reluctantly appointed them, you refused to give them offices."