Group Lauds Gov. Aregbesola On Bridge Reconstruction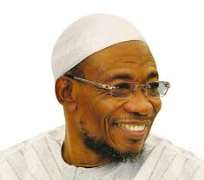 An Ileogbo based socio-elites group, Ileogbo Unity Forum (IUF) has lauded Osun State Governor, Ogbeni Rauf Aregbosola for intervening in the reconstruction of the collapsed Idi-Ore bridge in Ileogbo, the headquarters of Ayedire Local Government Area of the state.
The commendation was made at the 2017 mid-year get together party of the forum held at Ileogbo City Hall, Ileogbo.
The forum described the collapsed bridge as the most economic hub connecting the main market of the town, saying the bridge reconstruction is a timely intervention in registration of the strategic position of the project.
Addressing citizens, the president of the forum, Prince Remi Osuolale pointed the bridge reconstruction is not only laudable but also an added cap to the authority of the union for staying on government`s neck in fixing the culvert.
He appreciated the government for listening to the yearning of the people of the ancient community and tasked for more attention in Odo-Apa culvert for easy accessibility to the town`s market fondly called as "Ojomode".
The president who was appointed last January, eulogized his executives for their innovative ideas that has contributed to the remarkable achievements such as roads rehabilitation, education, infrastructures and many more.
In his stewardship address, Prince Osuolale dsiclosed IUF executives facilitated National Identity card registration centre to Ileogbo, graded old Ileogbo-Iwo road, constructed motor garage and electric signpost for Olu of Ileogbo`s palace, organized Computer base Test (CBT) training and seminar for all JAMB candidates in Ileogbo and environment, built modern ttoilet facility for Ogunkanmi Memorial Health Centre, Oke Odo in Ileogbo, graded Amuludun market and concreted potholes on Ileogbo-Iwo road, repair/electrification fo Ileogbo City Hall, facilitated the rehabilitation of Ojomode` bridge within few months of their tenureship.
The president referenced Ajiroba of Ileogbo, Chief Adegboyega, Pharmacist Tajudeen Adeyemi, Ileogbo Development Forum (IDF) and IUF leadership team for their special attention in fixing Idi-Oore bridge.