Nigeria and Constitutional Democracy: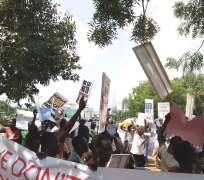 Following President Muhammadu Buhari medical vacation to the UK, some Nigerians have been asking, desiring to know the ailment the President is suffering from or his health status.
While some people are asserting that Nigerians don't have the right to know what is the health situation of Mr. President, others are insisting on the right to know.
One indisputable fact that we cannot run away from, is that by his position as the President of the Federal Republic of Nigeria, President Muhammadu Buhari has become a public property and so his privacy will be violated and become public.
However, I want to state with all emphasis that I pitch my tent with those demanding to know the health status of Mr. President, but unfortunately as a firm believer in constitutional democracy, I have searched through the 1999 constitution in order to situate and based my position, but can't find any provision or section which supports my position and knowing fully well that the constitution is the Grundnorm of the Nigerian state, I have no option but to submit to the dictates of the constitution as a firm believer in the rule of law.
If people who belong to my school of thought of demanding to know the health status of our President are really interested in changing the status quo, the most appropriate thing to do is to approach the National Assembly for an amendment of the constitution to make it mandatory for the health status of whoever is Nigeria's President to be made public whenever he or she is under the weather.
Only when the advocates of, we want to know Mr. President health status do this, will they be fully assured of my support which is partial for now, and that of millions of Nigerians and it is not too late in the day to start the process now.
I rest my case.
Nelson Ekujumi