Burgling of Jonathan's House: Sacked Police Sergeant Docked, Gets N7m Bail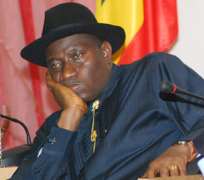 MUSA Musa, a dismissed Police Serge can't, was, yesterday, arraigned before an Abuja chief magistrate court sitting in Wuse Zone over his alleged involvement in the looting of the Abuja residence of former President, Goodluck Jonathan.
Jonathan's home in Abuja burgled by police men Musa pleaded not guilty to a First Information Report, FIR, the Federal Capital Territory Police Command entered against him.
He was accused of "house breaking, mischief and theft, contrary to Sections 353, 326 and 288 of the Penal Code Law, Cap 89 Laws of Northern Nigeria, 1963." The loot Police alleged that Musa, 23, "broke into the residence of former President Jonathan, situated at Gwarimpa within the jurisdiction of this court and stole (1) all the internal fittings (2) furniture (3) cloth (4) electrical fittings (5) water heaters (6) kitchen shelf (7) wardrobes (8) chandelier (9) refrigerators (10) door and went further to steal canopies," valued at N30 million. Shortly after the defendant took his plea, Police lawyer, Stanley Nwodo, urged the court to deny him bail.
Nwodo said: "This is a case of national interest, which involves national security. Granting him bail will foil the trial of this case and contravene Section 1 of the Administration of Criminal Justice Act, ACJA.
"We also contend that the accused person will jump bail if released. This is because he did so at the early stage of investigation of this matter at Gwarimpa Division of the Police. It is on record."
However, Musa's lawyer, Mr. E. O. Egbule, insisted that the offences were bailable . The defence lawyer told the court that his client was willing to provide reliable sureties to guarantee his attendance at trial, adding "we submit that the presumption of innocence enshrined under Section 36(5) of the Constitution is heavily in favour of the defendant."
After listening to both parties, Chief Magistrate Mabel Shegu-Bello, held that the "provisions of the Constitution is clear that the liberty of an accused person is guaranteed unfettered. The main function of bail is to ensure the attendance of an accused for trial."
Magistrate Shegu-Bello held that "the prosecution has failed to satisfy this court that this case is of national interest or involves national security.
"There is no doubt that the nominal complainant in this matter is of national importance, but the matter before this court is not of national importance."
She said the court was minded to conduct the trial the same way it would attend to a theft case concerning any other citizen and consequently granted him N7 million bail with one surety in like sum.
The court said that the surety must be a civil servant of any grade level that is resident in the FCT. It added that the identity of the proposed surety, including his or her workplace, must be verified and adjourned till October 3 for trial. Police authorities earlier dismissed four officers over theft of items from Jonathan's house. – Vanguard