BP SAYS NEW GULF OIL LEAK PLAN NOT GUARANTEED TO WORK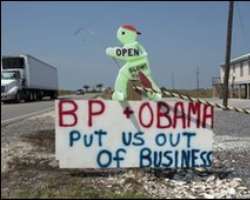 BP says its new attempt to halt the oil leak in the Gulf of Mexico will take at least four days to set up and there is no guarantee of success.
It involves undersea robots cutting through a broken pipe on top of the blown-out well to cap it.
But BP chief operating officer Doug Suttles said even if it succeeded it would only halt a majority of the leak.
US President Barack Obama said the failure of the earlier "top kill" plan was "heartbreaking".
At least 20 million gallons have now leaked into the Gulf of Mexico, affecting more than 70 miles (110km) of Louisiana's coastline in the worst oil disaster in US history.
Eleven rig workers died when the Deepwater Horizon exploded and sank nearly six weeks ago.
Speaking on US television on Sunday, BP managing director Robert Dudley vowed the company would learn from its failed attempts and continue trying.
He said the company would know by the end of the week if the latest attempt had succeeded.
Unprecedented depth
Mr Suttles earlier admitted that "after three full days of attempting 'top kill', we have been unable to overcome the flow from the well, so we now believe it's time to move on to the next of our options".
PAST ATTEMPTS TO STEM OIL LEAK
Continue reading the main story http://news.bbc.co.uk/2/hi/world/us_and_canada/10194335.stm#skip_feature_02
Oil booms – partly successful
Controlled burning – causes serious air pollution
Dispersant used – scientists warn it may kill marine life
Huge dome placed over leak – became blocked by ice crystals
Mile-long tube – fails to suck up large amount of oil
"Top-kill" method to pump heavy mud – abandoned
"Top kill" involved blasting waste material and heavy mud into the ruptured well.
Mr Suttles said he "did not know for certain" why it had failed.
The Lower Marine Riser Package (LMRP) will use undersea robots to slice through the damaged pipe to make a clean cut that can be connected to a riser, capturing the leaking oil.
However, BP said the operation had never been carried out at a depth of 5,000ft and "the successful deployment of the containment system cannot be assured".
University of Alabama engineering professor Philip W Johnson told Associated Press news agency that although he was hopeful the plan would succeed, if the new cap could not be placed on the fresh cut, "things will get much worse".
The operation will need four days to set up and could take a week.
The system is similar to a previous containment dome plan that failed.
If the next operation fails, BP may have to pin its hopes on relief wells being drilled. However, that will not be ready for at least two months.
Meanwhile at least 12,000 barrels (504,000 gallons) are leaking into the Gulf every day.
'Unjustly victimised'
BP has spent more than $940m (£645m) so far in trying to contain the disaster.
On Sunday, White House energy adviser Carol Browner told NBC television the oil leak was "probably the biggest environmental disaster we've ever faced in this country".
President Obama earlier expressed anger at the latest failure.
"It is as enraging as it is heartbreaking, and we will not relent until this leak is contained, until the waters and shores are cleaned up, and until the people unjustly victimised by this man-made disaster are made whole," he said.
Mr Obama toured the oil-hit areas on Friday and said he would triple the manpower to contain and clean up the spill.