Actor, Williams Uche Mbah Scammed at GT Bank Premises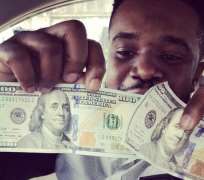 Handsome Nollywood actor, Williams Uche Mbah, is still wondering how fraudsters were able to get him in broad day light without his notice.
The actor disclosed that he had gone to a branch o the GT bank to withdraw about one thousand Dollars and was later approached by an Aboki that changes money which he accepted to transact business with but never knew he was about to be scammed.
According to him, "This Lagos hustlers got me today. So I went to my bank (gtbank) at Awolowo road, Ikoyi to withdraw some money (dollars) so this aboki guys that change money in the bank agreed to change for me for N364 and I asked him to go get the naira while I wait in the banking hall.
"Someone else came back and said it's his Oga that sent him and he handed me the naira and said it's 359 that his Oga told him, so i immediately collected my $1k and he and gave him his 359k back. little did I know that he swiped my original dollars with fake $1k and ran off pretending to go and call his Oga. it was then I realized that they have played a fast one. Don't be sorry for me I only made this video for you guys to be careful while changing money. God pass them."