Justice For Aluu Four: Police Sergeant, Two Others Sentenced To Death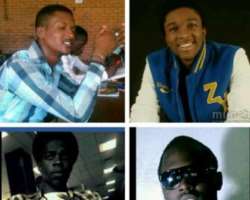 A Rivers State High Court sitting in Port Harcourt has sentenced to death a Police Sergeant, Mr. Lucky Orji, David Chinasa Ogbada and Ikechukwu Louis Amadi, (aka Kapoon) for their active involvement in the murder of the four students of University of Port Harcourt.
The court also discharged and acquitted four of the suspects in the trial, Saviour Johnny, Abiodun Yusuf, Joshua Ekpe and Cyril Abang.
Four students of UNIPORT, Ugonna Obuzor, Toku Lloyd, Tekena Elkannah and Chiadika Biringa were murdered in a mob action at Aluu community in Ikwerre Local Government Area of the state on 5th Oct 2012.
Twelve suspects were arraigned before the high court on the crime and based on a report from the Director of Public Prosecution, DPP, I. Otorubio, five of the suspects including the traditional ruler of Umuokiri, Alhaji Hassan Welewa were discharged and acquitted on 27 January, 2017 Seven of the suspects, Saviour Johnny, Lucky Orji, Ikechukwu Louis Amadi, (aka Kapoon) David Chinasa Ogbada, Abiodun Yusuf, Joshua Ekpe and Cyril Abang were denied bail.
The trial judge, Justice Letam Nyordee, while delivering judgment yesterday noted that the prosecution counsel was able to prove the involvement of the three persons through a video evidence presented to the court. Nyordee held that evidence given against the 1st, 2nd and 3rd defendants in the matter were overwhelming, adding their statements in the murder was confirmed in the video evidence that they actively took part in the killing of the four students.
He ruled that the statement of the 4th, 5th 6th and 7th defendants in the matter justifies their position that they were not involved in the murder, adding that it is corroborated by the video evidence of the prosecution counsel which only captured the presence of the suspects at the scene of the incidence. The trial judge explained that role played by the three convicted persons in the murder were unjustifiable, adding that their actions were intended to terminate the lives of the victims, stressing that 1st, 2nd and 3rd defendants were guilty of murder. Making reference to Section 319(1) of the Criminal Code, Cap. 37, Vol. 2, Laws of Rivers State of Nigeria, 1999, Nyordee sentenced the three to death for taking the lives of other persons unjustifiably.
The trial maintained that the death of the four students was the most condemnable and cannot be justified, adding that the victims had great hope and future for their families. Nyordee lashed out on the security operatives for their failure to take their role of protection of live and upholding of law seriously, regretting that the security personnel at the scene of the crime could not save the situation and described the situation as the sorry state of the society.
He said no explanation would ever be valid on why the Joint Military Task Force, JTF, the Aluu Police Post, Isiopko Divisional Police Headquarters and C4I security outfit, which were beckoned and were present, could not mobilize to rescue the victims whose allegation of robbery could not be proven during the unlawful prosecution. Nyordee, however, added that the decision of the court would serve as a deterrent to those who take human life without recourse, adding that human life should be protected. Vanguard