I wasn't sent out of NEC meeting-Faforiji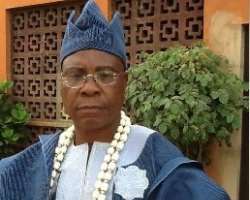 The Chairman of the Peoples Democratic Party, PDP, Osun State, Dr. Bayo Faforiji has debunked the news that he was sent out of the National Executive Committee, NEC, meeting which took place in Abuja some days ago.
He said nothing of such happened and that he was at the event only because he was invited and after the event, he even waited enough to snap pictures.
He also posited that if there is anybody who thinks he is not fit to be the Party's State Chairman or anybody who has an issue with him being the chairman, should take the issue to court.
Faforiji said this while answering questions on a programme on Rave FM earlier today.
The Chairman, however, added that the issue of chairman isn't what matters now and that what really matters is the Party being united to take over the mantle of leadership in the fast approaching governorship election in the State.
He explained that since the Supreme Court has given its verdict on the National Chairman of the party, there shouldn't be argument on who the State Chairman is.
Faforiji also debunked the news that he only wanted to be chairman so as to support Sen. Iyiola Omisore as a governorship aspirant for the coming election.
Speaking on the outcome of the stakeholders meeting of the party held yesterday, Faforiji said a committee has been inaugurated and as long as the committee carried out its research the right way, he would be pleased with whatever outcome it brings.
He appreciated the efforts of Sen. Iyiola Omisore, Olu Alabi, Layo Ogunrinde and Fatai Akinbade in ensuring the party becomes united.
He also urged members to endure the trying period of the party and shun possible differences to give room for peace to reign.