FRIENDSHIP, A PANACEA FOR PEACE  -  MADUMERE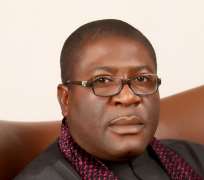 The Deputy Governor of Imo State, Prince Eze Madumere has called on Imolites and Nigerians at large to imbibe the spirit of friendship with a view to fostering social harmony and peace.
The Deputy Governor's call was contained in a press release signed by his Special Assistant on Media, Uche Onwuchekwa.
According to the release, Prince Madumere while joining other spirited Nigerians to celebrate International Day of Friendship, observe that the challenges of division, violence, hate and general security of life and property can be addressed through accumulation of bonds of camaraderie and building strong ties of trust.
He also said that such friendship spirit has been part and parcel of the Nigerian values even in the pre-colonial era. He therefore called for re-invigoration of Nigerian known strong positive friendship values to address its present challenges of divisive relationships that exist among the citizens.
He advised that creating an atmosphere where there is promotion and defense of shared spirit of human solidarity is only possible through friendship.
As contained in the release, he said: "I join other good spirited Nigerians to call for national consciousness so as to re-evaluate those factors that bring about division and embrace those nostalgic historic antecedents that unite us. This is the only way we can move forward. When we are friends, our challenges are less burdensome to manage. Let us build bridges of brotherhood and embrace one another. This is the only way we as a people can move forward and realize the great nation of collective dream."
It will be recalled that the United Nations in 2011 proclaimed International Day of Friendship with the idea that friendship between peoples, countries and cultures can inspire peace efforts and build bridges between communities. It is celebrated annually on July 30.
Uche Onwuchekwa
Special Assistant to the Deputy Governor on Media