DEADLY STORM STRIKES VOLCANO HIT GUATEMALA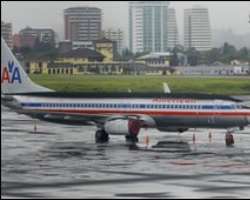 There are fears that the tropical storm could worsen flood damage
A powerful tropical storm has struck Guatemala, bringing torrential rains that have added to the disruption caused by an erupting volcano.
At least 12 people have died in mudslides and floods caused by tropical storm Agatha, which is moving in from the Pacific Ocean.
The rains are complicating efforts to clear up ash from the Pacaya Volcano, which began erupting on Thursday.
Guatemala's main airport will remain close for at least five days.
Tropical storm Agatha – the first named storm of the Pacific Hurricane season – is expected to dump at least 50cm (20in) of rain on Guatemala, as well as El Salvador and southeastern Mexico.
Buried alive
Some rivers have already burst their banks, destroying bridges and forcing more than a-thousand people to flee their homes.
Four children died when a mudslide buried their home in Santa Catarina Pinula, on the outskirts of Guatemala City, officials said.
Elsewhere in the capital, four people died and 11 are missing after floods swept through their homes.
A state of emergency declared because of the volcanic eruption has been extended across Guatemala.
Hundreds of people are in shelters after the Pacaya volcano erupted on Thursday.
Officials are warning that flooding could be worse than usual because ash from the volcano has blocked drainage systems.
They fear the rains will turn the black volcanic ash into cement-like mud.