Okonjo-Iweala named to the board of Standard Chartered bank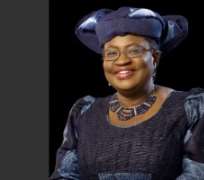 Former Finance Minister, Ngozi Okonjo-Iweala, has been named an independent non-executive director at Standard Chartered Plc in the United Kingdom.
Okonjo-Iweala was two-time minister of finance in Nigeria. First under former President Olusegun Obasanjo.
She was a key figure in driving NEEDS agenda under Obasanjo, and was a powerful member of the administration of former President Goodluck Jonathan where he held the post of Co-ordination minister for the economy, which made literally the most powerful minister in that administration.
 Standard Chartered PLC is a British multinational banking and financial services company head-quartered in London and with presence in 70 countries.
According to a statement released by the company yesterday, her appointment is effective from November 1, 2017. She will earn £130,000 per annum for her expertise in financial and development financing.
José Viñals, Group Chairman, said: "Ngozi is a globally recognised African and international figure. She has significant geopolitical, economic, risk and development experience and expertise at a national governmental level and in international organisations, which will provide significant insight and value to the Board.
"She also has deep knowledge of Africa as well as emerging and developing markets. I am delighted to welcome her to Standard Chartered."