Osun to pay workers arrears, leave bonus, salary, pension with over 8bn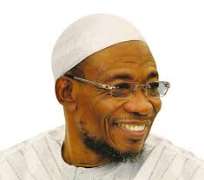 The state government of Osun has committed over N8bn to the payment of arrears, leave bonus, salary and pension of the workers and pensioners of the state and those of the local government.
Aside the N6.3bn received from the second Paris club refund, the state government coughed out additional close over N2bn for the payment of the workers and pensioners entitlements.
The Comrade Hassan Sunmonu led Appropriation Committee and the Labour unions in the state agreed to the payment of arrears of July and August of 2015, balance of leave bonus of 2015 and July 2017 salary and pension entitlements.
Chairman of Trade Union Congress (TUC), in the state Comrade Adebowale Adekola confirmed the agreement.
The commissioner for Information and Strategy, Mr Adelani Baderinwa also confirmed the payment of N8bn to settle the arrears, pension and salary in a briefing after the state Executive Council Meeting held the late Wednesday night.
According to Baderinwa, arrears, leave bonus, pension and salary would be paid any moment from now.
Governor Rauf Aregbesola was represented by his Chief of Staff, Alhaji Gboyega Oyetola at the meeting.
Labour leaders at the meeting were included the Chairman of the Nigeria Labour Congress (NLC), Comrade Jacob Adekomi, Chairman of Trade Union Congress (TUC), Comrade Adebowale Adekola and Chairman of Joint Negotiation Council, Comrade Bayo Adejumo.
Others included Chairman of the Nigerian Union of Local Government Employee (NULGE) Comrade Deji Adeyeye, Chairman of Nigerian Union of Teachers (TUC), Comarde Waheed Amuda, Chairman of Nigeria Union of Pensioners in Osun State, Alhaji G.O Salawu, NLC Secretary, Pastor Rufus Adeyemi, Dr Niyi Oginni of the Nigeria Medical Association (NMA), representative of the workers of the state owned tertiary institutions and Ladoke Akintola University of Technology.
The beneficiaries of the arrears are level 8 and above workers of the state who constitute 38 per cent of the workforce. They had been receiving modulated salary since July 2015.
Workers on level 1 to 7 who constitute 62 per cent of the state personnel were being paid full salary.
It would be recalled that over N14bn was used to pay three months salaries and pensions in a week December 2016 when the first tranche of the Paris club refund was released to the state.
With the payment of July and August 2015 salary arrears, the Governor Rauf Aregbesola has shown commitment to the payment of the arrears and leave bonus of the workers.