Nigerian Arrested for $5,400 CAD Credit Card Fraud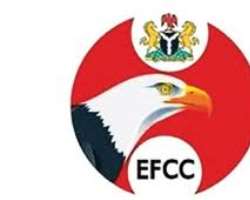 The Economic and Financial Crimes Commission have arrested Yusuf Balogun Alabi, a suspected credit card fraudster, who allegedly masterminded the theft of $5,400 Canadian Dollars from a catering entertainment outfit in Brantford, Canada. The fraud came to light after a young Nigerian undergraduate of Thompson Rivers University in British Columbia,Tony Ifeoluwa Adebero was arrested in Toronto, Canada on charges of wire fraud.
The youngster who was expecting to receive his tuition from his dad, Mr Adebero Oyewole, did not suspect fraud when his account was credited by his bank. He however became worried when few days after, he got a call from his bank, TD Canada Trust Bank, asking for details of the person who made transfer to his account, within 12 hours.
He immediately called his father who in turn contacted a Bureau de Change operator, Kassim Ishola, who fingered one Idris Oni whom he gave the money to transfer, but Idris mentioned Yusuf Balogun as the man who effected the transfer while Balogun supplied the name Bacon Jamie Cecil as the person that actually wired the funds to Tony in Canada. Unfortunately, Bacon Jamie Cecil was discovered to be a fake name prompting the arrest of Tony in Canada.
The scam was brought to the attention of the EFCC through a June 2, 2017 petition by Mr. Oyewole wherein he informed the Commission that his son Tony was charged to court in Canada for engaging in internet fraud. He explained that sometime in 2016, he approached his bank in Nigeria when he wanted to pay his son's school fees in Thompson Rivers University BC Canada but had difficulty due to foreign exchange scarcity and the stiff forex regulations at the time. In the midst of the challenge, he met a church member, one Mrs Ibidola, who also had children schooling abroad. She introduced him to a Bureau de Change operator that would help transfer the funds to his son.
Adebero said on 6th September 2016, Tony, informed him via telephone that the Canadian bank, TD Canada Trust Bank called him, requesting for the details of the person who made the transfer to his account. The information according to him was to be provided to the bank within 12 hours, as they suspected a fraudulent transaction. Adebero contacted the Bureau de Change to provide the details.
The Bureau de Change operator, Kassim Ishola claimed the transaction was made by one Idris Oni who also pointed to Yusuf Balogun Alabi as the person who initiated the transfer. Yusuf later sent the name, Bacon Jamie Cecil to him, but the name according to the bank authorities was false, which warranted Tony's arrest in Canada.
Investigation by the commission led to the arrest of the prime suspect, Balogun Yusuf Alabi, a.k.a. Monica Donal, a 20 year old Nigerian, who resides in Lagos. The EFCC found that Balogun Yusuf, in an online transaction, contracted a caterer in Canada, Bruce Morris, while posing to be a lady by name Monica Donal, based in the United States of America. He thereafter initiated the fraud, by placing request for 100 boxes of Lunch for a family reunion to Bruce Morris, owner of Kaizen Catering Entertainment, Brantford Canada. They arrived at an estimated figure, while Bruce raised an invoice for payment.
Upon arrest, Yusuf told investigators he had several credit cards in his possession, which he kept trying, until one pulled through and about CAD $11000 was transferred to the catering company. He instructed Bruce to transfer the sum of Five Thousand Dollars (CAD $5400) to Tony Ifeoluwa Adebero's account in Canada.
Tony's father, Mr Oyewole Adebero, paid the Naira value of about N1.4 million to Kassim Ishola in Nigeria as equivalent of the sum of CAD $7400 being money tranfered to his son in two instalments of CAD $2000and CAD $5400 by the Bureau de Change.
Yusuf Balogun Alabi has made statements to the Commission, confessing to the crime. He admitted he single-handely perpetrated the fraud, with the use of credit card numbers which he claimed to have accessed from an online site. Yusuf is presently in the EFCC custody, while investigations continue.
Wilson Uwujaren
Head, Media & Publicity
21 July, 2017