Erelu Jesu: Lying in God's name?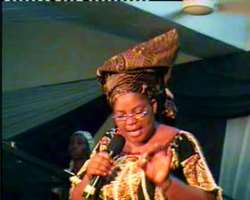 Going by her fantastic claims in a fast-selling but poorly produced video disc, "Lady Evangelist" Dorcas Bolatito Oluwatimilehin, a.k.a. Erelu Jesu, is either the liar of all times, or God's last-ditch
effort to pull the world from the jaws of occult-backed musicians, false prophets, and hell. KAYODE FALADE went in search of her and returned with what Winston Churchill would describe as a "riddle, wrapped in a mystery, inside an enigma."
THe auditorium was dimly lit and tightly packed. Organised rhythmic sound of clapping accompanied by soul-rending choruses filled the air. The general atmospheric tempo of the worship centre and the songs were nearing an orgasmic crescendo. Penitents, eyes tightly shut, were swaying to the rhythm of the soul-stirring songs wrapped in their collective and individual world of eschatological rhapsody.
On the rostrum was a tall, fair, stout woman clad in a well cut ankra attire. She was cradling a wireless microphone and urging the congregation on with her utterances which came as interjections. Her name is Lady Evangelist Dorcas Bolatito Oluwatimileyin, also known as Erelu Jesu.
Behind her was somebody of a similar gender but sparse in stature. She was dressed in a gown and clutching a copy of the Holy Bible. Very close to her on the floor and within quick and easy reach stood a hand bell. It was quite obvious the roles of the two. While the former was the leader, the latter was her acolyte.
Except for the duo and the glass panelled pulpit, on which sat another hand-bell, the podium was empty.
Welcome to the five-day revival of the Evangelica Baptist Church, Odo Okun, Saw Mill, Ilorin, Kwara State where the Lady Evangelist D B Oluwatimileyin's revelations, which are currently shaking the country's Christian world, was made. The appearance was on the last day of the programme, which was held from 10 to 14 May, 2009.
It was the day Christianity in Nigeria received one of its greatest bashings.
The former Erelu Agbaye, who now calls herself Erelu Jesu, took many notable names in the nation's entertainment and Christian world to the cleaners concerning their stand in the faith and their alleged relationship with the occult.
Chief among her targets are two very popular musicians of the Yoruba indigenous genre. Quite thinly veiled, it is not difficult to know that she was talking about the grandmasters of Fuji music, Alhaji Sikiru Ayinde Barrister and Alhaji Kollington Ayinla, both avowed Muslims.
Erelu claimed that these artistes, who are friends, derived their fame from the occultic powers she gave them before her conversion to Christianity. She added that the two friends who had a long feud over supremacy, had the quarrel because of the powerful charm she made for them but which got manifested in one, more than the other.
Erelu went on to describe her encounter with another musician who still bestrides his brand of music like a Colossus.
The self-confessed occultist who claimed to have spent the better part of her life in the forest (Igbo Olodumare and Igbo Irunmale) said in the widely circulated Video Compact Disc (VCD) that the music maestro sought her help to acquire fame and she obliged.
She claimed to have helped the musician, whose name she gave as Sunday, gain fame. She went on to give a graphic description of how she made magical incision on the music maestro's legs to endow him the dancing prowess with which he is widely renowned even now when he is in his 60's.
To sort of show his gratitude, she claimed that the musician referred to as King in his brand of African music, even sang her praise.
Talo wa ni nu ogba yen? Who is in the garden?
Omokekere kan ni A little (fine) girl
Se n wa wo? Can I come and see her?
Ma wa wo o. No, don't come
E wo Erelu... Ooduaa. Behold, Erelu ... Oodua
She also claimed to be the one who anointed this artiste to perform a role in one popular Yoruba movie, Fopomoyo, and that he betrayed the covenant with the occult and that was what led to his problems.
In the testimony, Erelu told her audience which consisted mainly of women and children that she had a special pact with these artistes especially with the juju maestro: they were to give her human blood from time to time. This, she said, explained why there would always be bloodshed everywhere any of these musicians performed.
In her stranger-than-fiction testimony, where she mentioned names of celebrities particularly in the Christian world indiscriminately, including world renowned Reinhard Bonnke, the self styled evangelist said she also had a pact with some gospel artistes claiming that most of them had sold their souls to the Devil.
She informed her audience how one of them of them, who is now celebrated for his kind of music: a fusion of juju and gospel was brought to her by his former boss, now late, to be initiated into a cult and subsequently given fame and wealth.
According to Erelu Agbaye, who said she had now become Erelu Jesu, the man was offered many options to choose from in the ritual of getting his demands met.
She said the man was first asked to bring either his child or manhood but he refused to donate any. After sometime, she alleged, the man approached her again and this time accepted to donate his backbone marrow. After a while, the said musician had an automobile accident and lost the use of his lower limbs because of a spinal cord-related injury. This, she claimed, brought him fame and wealth.
The allegations made by Erelu were many and sometimes shocking even bordering on the bizarre. But she insisted that everything was true even daring the people she mentioned to confront her openly in the presence of journalists.
Evangelist Oluwatimileyin's next port of call was the clergy, particularly those of the Pentecostal extraction. Top on her list are two Ibadan based pastors whom she accused of selling their souls to the occult from where they derived in the first instance.
The tall and plump self-acclaimed woman of God said she was always miffed by the theatrics of these two clerics. She then went into a tirade of what the gentlemen of the robe had allegedly done to attain power and how they continue to maintain such. Erelu also labelled the duo as swindlers who employ all the tricks inside and outside the book to lure their congregation into parting with their hard earned money.
Some of their ploys, according to Erelu, is claiming to have received words of knowledge during service that somebody in the congregation is destined to meet a dead child or loved one at home and that if they do not want such to happen, they should come and make a donation of a particular sum which, if not readily available with them right there, should be sourced from a friend within the congregation.
Prophetess Oluwatimileyin who is a roving evangelist also mentioned a particularly controversial cleric based around Ikotun, a Lagos suburb. Erelu Agbaye described the miracle that the hand-waving pastor claims to be performing as a huge hoax and nothing but a drama by well-groomed actors and actresses.
She also linked the pastor with another highly celebrated televangelist whose highly orchestrated miracles and that of his friend some time ago pitted him against fellow clerics and the Pentecostal Fellowship of Nigeria (PFN). This eventually led to the banning of the broadcast of miracles on television station.
According to Erelu Agbaye, these two men are not Christians as they claim but deep members of the occult.
Perhaps, the most unnerving of the claims of Erelu is that concerning a mostly celebrated and respected cleric along Ota/Abeokuta Expressway.
She claimed that the occult world had revealed that the man derived his powers from them and that one old man told her to go to him and collect the article from the celebrated pastor whose church auditorium is said to be able to sit 50,000 worshippers at a time.
Erelu said she was at this man's church to demand for the article of power which he allegedly refused to yield. After some exchange of hot words, she claimed the pastor had her arrested and thrown out of his premises. She claimed further that the pastor later sent some emissaries to her offering to pay her millions of naira there and then and to subsequently give her N250, 000 monthly as salary if she would keep her mouth shut and keep their secret.
She claimed she refused the alleged offer.
The woman made some other shocking claims, backed with data and lucid, vivid descriptions of the dramatis personae such that the viewer or listener could not but be torn between two worlds. It is very difficult to dismiss her claims with a wave of the hand.
To the listening public especially Christians, Erelu is either a monumental fraud whose fragmented and distorted imagination was satanically inspired to wreak an unprecedented damage in the household of their faith or she is a complete original specifically raised by God to save the beloved from the whims, caprices and evil machination of the end-time pastors.
The "revelations" by this woman expectedly have caused a lot of uproar in the nation's Christian circle. Some persons, nay churches, have had their faith rocked to the very foundation.
A lot of variations and colourations have also been added to Erelu's stories that it became actually expedient to find the author of the provocative publication.
The Nigerian Compass on Saturday went on the trail of this enigma to ascertain the veracity of her claims.
The first port of call was the church where the VCD emanated from.
The road which branched to the church is not tarred and the dust generated by the tractor trying to grade it still seeks the nostrils and eyes of pedestrians as they slug along that hot Sunday morning. But it never deterred many worshippers who hurried along the road to their respective hallowed sanctuaries. And these are more than a few on this road.
Just off the road, the modest edifice lay beckoning. The Bible study was on. It was coordinated by Pastor G. Oyekan, the church's General Overseer. Some minutes to 11.00 a.m., the Sunday service proper started. The sermon was on "the Seven Events After Armageddon". Well researched and well delivered. One thing though, the name of Erelu Jesu came up more than once during the sermon.
Some few minutes after the service, Saturday Special had a chat with the elderly man of God.
Unlike his assistant whom the reporter had met two days earlier, Oyekan was willing to talk. He confirmed that the crusade where the recording was done actually took place in his church during its yearly convention. But no sooner was the footage of the revival released to the public than Oyekan started having some problems.
According to him, a powerful delegation of Police officers from Lagos came looking for him and he was invited to the State Headquarters of the law enforcement agency for questioning.
He stated that it was there that he was questioned about the claims made by Erelu and was asked to fish the woman out.
"Since we had a way of getting to see her, I put the machinery into use and she reported at the station where she was detained overnight. The Police came on a Friday to pick me up. It was during the church's convention. After I told them what I knew about the matter, I was released. But not after we had been able to locate Erelu and she had promised to come.
"I would have been detained but for the grace of God and some well meaning individuals," Oyekan disclosed, shaking his head sadly with his completely grey goatee waving slightly as the giant standing fan blew away the hot afternoon heat.
It was not that easy for Erelu, either.
According to Oyekan, immediately woman evangelist showed up at the police station, she was promptly arrested and detained.
"Erelu spent the weekend there. The policemen who said they were from Lagos at the instance of one of the clerics she mentioned in her testimony said they were going to take her to Lagos. And that was what they made us believe that Monday morning until we later saw her.
"It was then she told us that the men released her at Otte, a town close to Ifewara. She said she was released when the men made a call to the cleric who sent them. Apparently she was let go on his instruction. Why they suddenly released her after making us to believe that they were taking her to Lagos is still a misery," Oyekan added.
If the two clerics were released in unclear circumstances, not too long after their arrest, it was not so for the proprietor of Ojasope Recording Studio whose shop is at Saraki Shopping Complex, also in Ilorin, the Kwara State capital.
Oyekan continued: "The boy was commissioned by the church to do the recording of the event just for record purposes. It was never meant to be sold or commercialised. We were surprised when we heard that the VCDs were being sold in some places including Lagos and Ilorin here.
"During the programme itself, Erelu forbade the recording by anybody even with their GSM handsets. Any time she caught someone doing this or attempting to do it, she would seize the handset herself and delete whatever the fellow had recorded.
"So, it was a surprise to us when the boy and his crew were arrested by the Police. They were detained for a while, much longer than that of Erelu. The VCDs were pirated."
Many reactions have however been trailing this latest 'testimony' by Erelu.
Curiously, for a long time, none of these people mentioned in the 'testimony' of Oluwatimileyin, has deemed it fit to respond to her many allegations. Are they dismissing her claims as the ranting of a rabid dog seeking undeserved publicity? Or, are her claims against them true and they are afraid to confront her as she has always demanded?
This 2009 'testimony' in Ilorin is perhaps becoming the last straw for some of them.
For instance, Yinka Ayefele, a popular Ibadan-based gospel musician immediately went to the press when the story of Erelu's claims started making the rounds.
The first thing he did was to refute Erelu's claims that the wheelchair-consigned artiste had donated his spinal cord to the occult for fame and that despite both orthodox medicine and spiritual efforts made by this man to walk again, he never would.
After the refutation in the media, the artiste caused some other publications where his lawyer threatened to go to court to seek redress against the publisher of the publications. It is unclear if his lawyers have filed any suit as threatened.
Another of Erelu's supposed clients who raised an eyebrow at the deluge of damaging claims is also Ibadan based, but a man of the robe.
The General Overseer of Love of Christ Global Bible Church, Olabode Odunayo, popularly called "Baba Love," denied the allegation that he used occultic means to grow the Old-Ife Road-based church.
Odunayo, is reported to have at a press conference denied the claim by 'Erelu' stressing, "If it is God that called me, definitely this ministry will continue to blossom, but if it is not God, it will perish."
He took exceptions to the claim by the woman 'that he normally carries rituals during the night to aid God's work, saying, ''I was born as a prophet because my mother told me that she had been informed that I would be a prophet and I can say that beyond any reasonable doubt, I know that I am truly called by God. So, I see no reason why I should use diabolical powers to promote my ministry."
Odunayo further disclosed that his attention was called to the Video CD in August, 2009 in which the woman claimed that he used occultic powers in his church at Oke Baale, Osogbo, which led to his lawyer writing to her demanding that she substantiate her claim in the album or be ready for court action.
According to him, the Osun State Commissioner for Police waded into the matter, which led to the woman denouncing all she claimed in the video about him.
Erelu, he further alleged, claimed that all she said in her VCD were things told her by a woman whose identity she could not remember and whose address she didn't know.
The man of God said Erelu had to beg the Osun CP to help her plead for forgiveness, blaming the problem on her illiteracy. "There and then, I forgave her and prayed for her," Odunayo claimed.
The Ibadan based cleric, however, disclosed that he was embarrassed and angered that after the woman had tendered apology, she still continued selling the VCDs and was allegedly granting press interviews published in Christian magazines like the ''End Time Journal'' and the ''Christian Alive Magazine'' among others over the same issue. He threatened to press charges as soon as the full identities of the magazines and their office addresses were made known to him," according to reports culled from the Daily Independent newspaper.
However, one would not be too surprised at the silence of the people accused by Erelu Jesu if one really watched the VCD in question.
"Out of all the people I have been mentioning since, only one of them is no more and that is Abacha," Erelu said in the early part of the testimony at the Ilorin church. She then went on to challenge any of them who felt she was lying to make a public denial, threatening to spill more stomach-churning beans
"What makes me very angry is that these people are trying to avoid me. Let them come out and fault any of my claims," she thunders in the video recording which is replete with sordid allegations.
But for those wanting to take whatever Prophetess Oluwatimileyin said as the gospel truth, some pills contained therein appear to have putrid smell.
The head of the Ogboni Aborigine in Kwara, Osun and Ondo states, Oba Adeniyi faulted Oluwatimileyin's claim to being Erelu Agbaye. He declares emphatically that no such title exits in the occult.
"Erelu is a title given to a senior member of the Ogboni cult and not just any ceremonial thing as some may want to believe. It is solely for females. But there is no such title as Erelu Agbaye or Erelu Oodua. All of them can be referred to as Erelu Oodua because Oduduwa is our progenitor in Yoruba land," the Alaye told the Nigerian Compass on Saturday.
He also denied the existence of any forest known as Igbo Irunmale, dismissing it as a mere creation of the late celebrated writer, D O Fagunwa.
"There is no such place known as Igbo Irunmale. Irunmale is a Yoruba word for 400 (or numberless) gods, that is, the orisas. It also means a forest of numberless gods. There is no forest so designated in Yoruba land to the best of my knowledge. The one called Igbo Olodumare actually exists but it so named to honour Fagunwa who was from Oke Igbo. Igbo Olodumare is the title of one of his works just like Ogboju Ode Ninu Igbo Irunmale is another.