What Artistes, Producers Will Wear To HHWA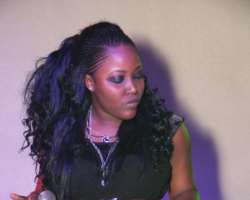 The much talked about fifth edition of the annual Hip Hop World Awards is just around the corner, and as it gets closer, the competition is getting stiffer as artistes, industry practitioners and record label owners gear up to storm the Exhibition hall, Eko Hotel, with a bang. The awards for urbane music and hip hop culture is known for its brilliant shot at creating a perfect picture of what a proper red carpet event should look like. Year in year out, celebrities attend the function that has been declared
'Nigeria's most organised awards ceremony' with dresses that make the eyes turn to kill.
"I'm putting on a long cocktail dress," OAP and writer, Tosyn Bucknor, who will also be presenting an award on Saturday, said. The dress, according to her, "was designed by Sasha's Eclectic. "I'm so excited because this is the first time I will actually be dressing up to HipHopworld Awards with a special dress."
Rapper, Kel, who attended the awards last year in a long black and grey dress, will be dressed in a short red and black dress this year. Designed my Mai Atafo, Kel, who is up for two nomination, said, "I am going to dress to kill this year, I don't want to be described as one of the worst dressed at all. Last year, I was adjudged as one of the best dressed at Hip Hop World Awards by a reputable newspaper, I don't intend to fall below that."
Like Kel, vocalist, Lami Phillips, plans to dress to kill. "Trust me to look my best, my outfit is going to be made by my stylist, Bolaji Animashaun, she came to me with some designs, and I chose a short dress the will blend with the yellow carpet," she said.
The event, which has been scheduled for the New Eko Exhibition hall today, is usually preceded by a yellow carpet ceremony, where celebrities will get to showcase the designers behind their outfits, among many other things.
"My outfit for this year's awards will be designed by Mai, I won't step on that yellow carpet not looking good, you can take my word on that," Banky W, host for last year's award who is up for three nominations this year, said.
Known for her ability to flirt with different fabrics, last year's winner in one of the categories, Omawumi, said, "I can't tell the colour or length of what I am going to be putting on right now, but Monami is designing, and I am sure it is going to be a long dress this time."
Years after a lot of people embraced the red carpet and made it a tradition at events and awards ceremonies, celebrities and invited guests were shocked when they arrived at the Muson Centre to a yellow carpet in 2007. And in 2008, the organisers were on point as they not only covered the whole of Planet One Events Centre, Maryland, with an elaborate spread of the yellow carpet, but the carpet was also branded with the logo of the title sponsor- MTN. In May 2009, it was a different ball game altogether, as the International Conference Centre, Abuja, came to life with the yellow carpet.
"I really don't have a lot of options, just two, so I will either be wearing a black or gray suit by Exclamation," rapper OD said.
Artquake, on the other hand, revealed, "We have not made up our minds yet, but we might be wearing Aso Oke, locally designed, Artquake is different, so our looks on the yellow carpet should be different."
"For me, it will be none other than Marco Martinez, my official clothier," Terry tha rapman said.
Gbemi Olateru-Olagbegi happens to be different. "I am not putting on something that was made, I bought it, it is short, comfortable, with pockets, very me and it sure looks good," she added.
"My outfit is being put together by Fusion's Korede Roberts, I really don't know what it looks like right now, but I am sure it is going to be nice," Darey Art Alade said.
Principal Consultant at Sodium Solutions, Abisoye Fagade, is sailing the same boat as Gbemi Olateru-Olagbegi. "It is going to be a Zara Ensemble, Zara from head to toe, I can't believe I am just falling in love with Zara, it is simple, classy and can fit into any setting," Fagade said.
Rapper Skales says, "This is the first time I will be attending Hiphopworld Awards and I want to look really good GNation will be making my outfit, I just told them to do something really classy for me, and I trust them to make it really fashionable."