Top Boko Haram chief, three others surrender to Nigerian Army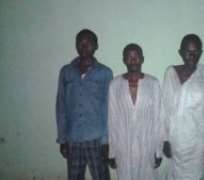 The Nigerian Army has scored a bull's eye in its fight against Boko Haram insurgency with the surrender of a high profile Boko Haram terrorist, Konto Fanami, along with three other  repentant terrorists.
The four repentant terrorists willingly deserted their hideouts and surrendered themselves to 120 Task Force Battalion at Goniri in Borno, he Army Spokesman, Brig.-Gen. Sani Usman, announced this in a statement in Abuja on Tuesday.
He described Fanami as the Ameer (leader) of "Kafa hideout of the Boko Haram terrorists group that operates on Ajigin-Talala-Mungusum axis."
"During preliminary interrogation, they confirmed that they abandoned the terrorism because of incessant hardship and realising that they were misled by their terrorist group leaders.
"They further stated they were also erroneously misinformed and brainwashed about Islam and the Nigerian military and the society generally.
"The remorseful surrendered terrorists regretted their involvement in terrorism and marveled at the courtesy and humane treatment accorded them by the military on surrendering," the army spokesman said.
He called on other remnants of the Boko Haram terrorists to follow suit and renounce the "devilish creed."
Usman said that adequate arrangements had been made to receive all those that voluntarily renounced terrorism and surrendered themselves, assuring that they would be treated "humanely."