THE STORY OF ALEX OKOSI, NIGERIAN WHO IS VICE PRESIDENT OF MTV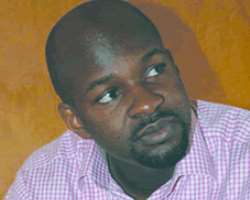 Alex Okosi
Hee grew up on the streets of Enugu here in Nigeria but today he is the Vice President (Africa region) of internationally recognized music channel MTV. He shares his story of dealing with women, passing out of school in flying colours and getting the MTV job in this interview with SAMUEL OLATUNJI .Excerpts:
When will you get tired of MTV or when will MTV get tired of you?
I can never get tired of MTV because I love the brand, I love what I do and we still have a whole bunch of stuff to do and a lot more to roll out. Even as we speak I am imagining things about MTV. I'm thinking about Nicolonia which   is the most popular children's network on our planet. I'm not just your MTV guy .I am your MTV network guy, so  there is so much to accomplish here. I don't think they are tired of me. If they are ,I won't be there and if I was, I won't also be there.
What was your childhood like?
I grew up in Enugu and was there till I was 12. Then I relocated to the US and lived in different parts with my brothers. My childhood was great ,because my parents were great parents. I learnt a lot from them . I was groomed by them and of course in the US I lived with my brothers and also learnt a lot from them. So I think my childhood has been instrumental to my success today ,because from my childhood I learnt how to deal with different kinds of people from different environments .
What are the memories of Enugu that you still recall?
I can remember playing football when I come back from school after doing my home work . I was a football fanatic. Later in the evening you may go in and watch a little TV and then you go to bed. It was a great experience, because I was carefree, loving and fun to be with.
What did you study?
I did a double major in business administration and economics .
How did you get the MTV job?
I did really well as an undergraduate and I won a basketball scholarship . MTV was the only firm I applied to for employment and I also developed a lot of interest in music while I was in school that gave me some relevant experience.
Sincerely speaking, is it true that Nigerians made waves in the last edition of MAMA because you are a Nigerian?
The truth is that Nigerian music right now is making waves in different countries in Africa. I think South Africa is the only place where Nigerian music does not make much of an impact . This is because the music is good and we made it a must that a music video needs to be outstanding. Artistes can now travel to other markets and people can now see them and connect them. So that is what it is.There is no secret formula and it's not because of me.
From a stakeholder's point of view, what will you say gave birth to the emergence of the new Nigerian music genre?
There is a distinct element that you can now identify in Nigerian music. I always tell people that to be successful , they should try to create a category of music that is unique. I think Nigerian music is unique.
Is MTV here to exploit the African market?
MTV has invested a lot in entertainment TV in Africa, and as an international brand, beyond investing in people like me and hiring people they pay to create high quality content.
Do you pay artistes?
We are a promotional platform for them. They give us their work and the challenge is in promoting them.
How do you handle women?
I don't have problems with women because I don't put myself in a position where I will have issues with women. I am not married but I want to get married and I am looking forward to the day when I will meet that perfect woman for me. I have never needed power or money to attract women. I have never had a problem because that has never been my focus. My job doesn't define me, money doesn't define me. I have had relationships with people that are not attracted to me because of my money or my status. So because of that, it is very easy for me to identify people that are coming into my life or people that want to be a part of my world because of that.
Has any woman ever thrown herself on you before?
No. People don't come at me like that because they know I don't do that.
How will they know when they have not tried?
The way I approach people is different. If you don't know me, I am very approachable but if you don't know me you may not know that I am approachable. There are people that will walk into a room and you won't even know that they are there. People see me and they say 'that preacher'. People don't see me as someone who can do such thing.
You said you never used your money or your platform to attract women.What attracts women to you ?
In my early twenties, women were probably more exciting because we were younger but I have always been a guy that is comfortable with who I was. Having good relationships was more important to me than having a cluster of women around me. That has never been a definition of success for me. If that was what I wanted to be, I would have been the best but I didn't see any value in it. There is nothing that would bring you more pain than that.
What went wrong with MAMA at Abuja?
Let's talk first about what went right. What went right was that we were ambitious in holding our first biggest award show in Africa in Nigeria. People were calling us to accuse us that it is because you are Nigerians but we truly believed that the Nigerian music industry truly deserved it.  The show itself, from TV perspective was a great show. It was transmitted to all MTV channels and was an opportunity for Nigerian artistes to showcase themselves.
I woke up the next morning and on the cover of CNN .Com was D'banj and Kelly Rowland, so from that perspective and to some VIPs that is the beauty of it . Because it is MTV, everybody was complaining( which is good) but the reality was that we were ambitious. It was our first time out, and we learnt some things. But the great thing is that the international community and Nigerians themselves saw a great show packaged with African talent like they have never seen before. Yeah we had some hiccups; the police wanted something and they didn't get it so they wanted to fraustrate the excercise.
Our equipment were stuck at the port for weeks but nobody wanted to ask us questions. All they just wanted to say was that the MTV people didn't do it right. Nobody wanted to know the things we did right that were good for Nigeria. That we added value to Nigeria .No one is asking why was last year's show in Kenya so great? Maybe you weren't there but any Nigerian that was there would tell you that it was a great show. Why are we talking about two years ago. It is like me asking you about what you did two years ago.
What should we expect in 2010 ?
Expect an incredible show even better than the Kenya one.
Where is it taking place?
I can't tell you yet.
So how will I know if it is going to be incredible?
It is going to be a great show that is all I can tell you .
When is it taking place?
October/November.
Tell me something about your dad?
My dad? My dad is a hardworking, honourable man who has worked almost all his life to provide for his family. He was a principled man.
What was the greatest lesson you learnt from him?
Hard work. The man is always doing something constructive at every given time.
What is the most memorable discussion you ever had with him?
The most memorable discussion we had was when dad came home one day and said the three last children have to take a chieftaincy title immediately.
So you are a chief?
Yes, I am a chief in my village. I am from Onitsha, my grand-father was an Obi of Onitsha and my uncle was also an Obi of Onitsha.
As a child, what were those things that made you angry at your father?
Whenever he came in you would hear him say why is this thing like this, why is that one like that? His was a bundle of action and he insisted that things must be straight. Then I would be like give me a break dad but then if you ask all my brothers, they admired him because he did teach us that idea that hard work is important that achievement is important and I think that is one thing that people say about him till today.
Was it from him that you learnt not to use a woman as a definitive parameter for your life?
Yes. I have the best mother in the world. My mother is the most beautiful woman you can find. It's pretty hard to measure up to those standards if you are a guy like me and you are trying to relate with someone as strong and as beautiful as my mother. It will be hard to relate with anyone on the street.
So your father got all that he wanted from your mother?
My father is a blessed man. With my mother, my father hit a jackpot.
You must have grown up with a silver spoon in your mouth?
No silver spoon; not even bronze. We worked hard for everything. We never needed to , but we worked hard for everything. My father was a believer in hard work. He was a civil servant but he retired and now he is a Landlord in my home town.
Do you go to Onitsha often?
I am going soon.
What about your mom ?
I think my mom in a lot of ways has such a motivating powerful influence on my life because she is just, you know when you look at someone and you are happy? If I don't call my mother she won't say you haven't called me in a week ah how are you? She is patient.
What does she do?
My mom is a housewife, she takes care of my father.
Does your mother tell you the kind of woman you should marry?
My mother doesn't need to tell me because I can see from her the kind of woman I am supposed to marry. The only thing she told me is to marry someone that I will be happy with. She is not forcy…like in this person must be from Onitsha or Imo or Yoruba. She just wants me to marry somebody that I will be happy with. She is a family oriented person.
How old are you?
35
When will you marry?
I want to marry somebody that is not only my friend but someone with whom I will have the kind of marriage my parents have. My parents have been married for fifty something years. She will be someone that in the toughest of times, she is there with me and that is really crucial. So I am going to get married to satisfy people's curiosity.