Kano State Present Free Land, Tax Incentives, to Investors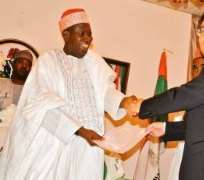 A Chinese multinational company, Shandong Ruyi Technology Group Co has confirmed plans to invest $600 million in the textile and garment industry in Kano State.
The chairman of the state Investment Promotion Agency, Alhaji Isyaku Umar Tofa said talks between officials of the company and those of the Kano state Investment Promotion Agency had reached advanced state while a Memorandum of Understanding between the two parties would be signed in the next few months.
This is coming as the state government gave out free land to two companies namely; Black Rhino/Dangote Group to construct a 100 megawatt solar power plant, at the cost of $150 million and St. Meer International Investment and Management Company which would invest $120 million to finance a similar project in the state.
Speaking during the presentation of Certificates of Occupancy to two investors, by the State Governor, Dr. Abdullahi Umar Ganduje, at the Government House in Kano, Tofa said, "We are about concluding talks with them and they were encouraged by the commitment of the Ganduje administration to provide tax incentives as well as free land for their huge investment."
Presenting the Certificates of Occupancy to the two investors, Governor Ganduje said the decision to give them 207 hectares and 152.3 hectares respectively, for free, was part of effort at engendering competitiveness and attracting Foreign Direct Investment.
He said, "It is in our interest to encourage investment in areas which have potential multiplier effects on the growth of the economy, including employment generation", noting out that the two companies would generate solar power that would help in addressing the states' energy deficiency.
"We are willing to remove any stumbling blocks towards the success of your investments because of benefits that will come to our state."
The governor maintained that his administration decided to engage an industrialist as chairman of the State Investment Promotion Agency in addition to actively involving representatives of what he called "the main industrial blocs in the state to hasten the attainment of its desire to reposition the economy of the state."
Source: WorldStage News