MESSY TALES TRAIL MERCY, FELLOW ACTRESSES BLACKLIST HER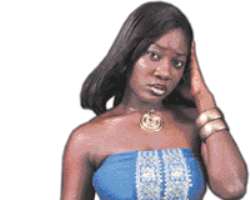 Mercy
There is no denying the fact that Mercy Johnson is about the busiest actress right now while her male counterparts, Jim Iyke and Van Vicker are the busiest actors, but some ugly news seem to be following Mercy everywhere.
Showbiznow gathered from a reliable source in the industry that some top actresses have blacklisted Mercy and have vowed never to work on same set with her. 'As far as I'm concerned I'm not touching any script that has her in it. I'm tired of her bad aura' an actress told us on condition that we won't print her name.
Mercy's sins are numerous, we were told. A source from the grapevine squealed that Mercy is now a power broker in Asaba. 'She is now the one who tells most marketers who to use in movies, if she doesn't want you, that is it' our source said. We learnt Mercy now wields so much power that she picks the cast of movies and gets away with as many things as possible.
She is said to go with the attitude of 'I'm a power broker, what do you want to do about it?'
She recently left the cast and crew of a movie set to attend the wedding of a fellow actor leaving them grounded. She came back late at night and shifted the blame to Van Vicker who had waited for her since 3pm. The producer and director shifted the blame to Van who had to leave at the dawn of following day to Ghana for another appointment. No one dared to blame Mercy, she is the queen.
We also learnt that Mercy bought a major marketer, a car in the East all in the bid of cementing her relationship with the producers. Sources say Mercy sometimes undertake some jobs for free so that she remains number one in terms of volume of work and as always she delivers on her character, a major plus to her.
Another tale trailing the actress is that she doesn't have a good relationship with her colleagues because she is treacherous. In times past '…she's been a very good friend to a number of actresses but they all fell apart because she goes behind them to spread ugly rumours, hence her lone ranger style because no one wants to associate with her'.
Her matter became even worse when she abused Patience Ozonkwor when the latter called her prostitute. Naturally her colleagues should have sided with her because no woman enjoys being called prostitute but they sided with Mama G because there was already bad blood between them.
Solo Amaco, a major force in movie making in Nigeria spoke for the producers. He denied that Mercy now handpicks the cast. 'There is nothing like that Samuel, she does not have the right to tell producers who to use and she can only play one role. She cannot play the role of Mama G while Mama G cannot play her role. And as per buying me a car, it is not true. Mercy did not buy me a car on my birthday as rumour has it. We are just close friends' he said.