Osun Speaker urges police to prosecute killers of UNIOSUN student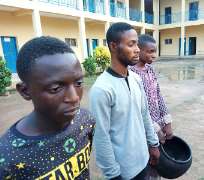 The Speaker of Osun State House of Assembly, Rt. Hon. Najeem Salaam has condemned the murder of another student of the University of Osun State, Oluwafemi Shonibare and charged police prosecute the culprits.
In a statement signed by his Chief Press Secretary, Mr. Goke Butika, the Speaker asserted that the state could not allow men and women of wicked intention to hold sway in a university environment.
He said the entire parents in the state were mourning now over the murder of a promising young man who came to the university to pursue his future before he was murdered.
Speaker Salaam tasked the host community to assist the security agencies with information and extra layer of vigilance system within the ambit of law; saying that killing of innocent students was unacceptable and must be treated with utmost seriousness.
He then charged the state ministry of justice to move in and ensure the delivery of justice to the deceased, his parents and the society.
Speaker Salaam also commiserated with the family of the deceased; expressing the condolence of the parliament.