AJEGUNLE RAPPER LANDS IN LONDON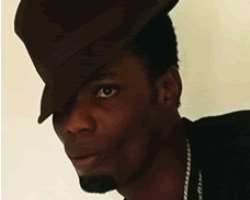 ERIC OBUH
With almost 16 million inhabitants, Lagos is the second most populous city in Africa, and every day more people arrive in search of a better life. While Lagos may be Nigeria's most prosperous city, it is a city of vast contrasts.
In areas such as Victoria Island, you can find glitzy shopping centres, expensive residential properties, beach resorts, luxury hotels, banks and swanky nightclubs. The three-part BBC documentary, Welcome To Lagos, produced by KEO Films, shed light on the other side of this megacity including places such as Olusosun, a rubbish dump where about 1000 scavengers work and live.
One of these scavengers was Eric Obuh aka Vocal Slender, 28, who was featured in the first episode of the documentary broadcast by BBC 2 on April 15. Eric who grew up on the streets of Lagos is also an aspiring rap artiste. According to him, he is 'working hard to become somebody,' by collecting scrap from the dump and selling it in order to make money to record and promote his music.
For Eric, it's not an easy task because while the music industry is bursting with homegrown talents and the biggest stars can afford to live in luxury, the competition is immense.
When he is not working and living on the dump, Eric stays in Ajegunle, Lagos' sprawling ghetto where the careers of many big acts like Daddy Showkey and African China started. In Ajegunle, Eric struggles to make a name for himself as Vocal Slender performing at outdoor parties and trying to promote his music.
The Independent of London said: 'Watching Eric slogging his guts out as a scavenger on the Olusosun rubbish dump in order to fund his music career couldn't be anything but inspiring.' The Times agreed, saying: 'The lives followed were inspirational, not least because these poorest of the poor saw only opportunity,' and they continue to say: 'Remember the name: Vocal Slender. There won't be a story to match it on tomorrow's Britain's Got Talent.'
Vocal Slender's story fascinated many viewers, including many people in the UK who were inspired and touched by him and the other people featured.  One of London's biggest Nigerian promoters, Cokobar decided that he wanted to help Vocal Slender get the break he so deserved. So, he made contact with him, flew to Lagos and offered to book him for an upcoming show: the Cokobar Music Festival, to be held at London's indigO2 on Bank holiday, Monday, May 31.
The event already has a star-studded line-up, and now Vocal Slender has been added to this bill as a special guest. Slender was issued his first passport, the visa was arranged, the flights booked and he can now look forward to this amazing opportunity. Not only will it be his first visit cum performance abroad, he would also be sharing the stage with Nigerian top acts like Wande Coal (Bumper 2 Bumper, You Bad), Dr Sid (Something About You), Bracket (Yori Yori) and DJ Zeez (Fokasibe), plus London-based JJC ('We Are Africans') and Tilla Man ('Pu'Yanga') – not the sort of bill you could expect to see him on in Lagos at present.
While in London, a professional music video for his single Owo Yapa is to be shot as well by Big Boyz Entertainment (kindly financed by Cokobar) which will help him establish his name when he returns to Lagos.
This could be Eric's chance to turn his dream of making it in the music industry into reality - and to become the Nigerian Slumdog Millionaire. And when things turn out this way, it's going to be an incredible story. Indeed.
' I'm working hard, so hard to become somebody in the future . So, I know, sooner or later God will put a smile on my face and my soul will become joy,' Eric says.