Domestic Violence Saga: Lanre Gentry Publicly Apologizes to Actress, Mercy Aigbe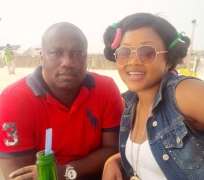 Nollywood actress, Mercy Aigbe, might be considering moving in with her hubby, Lanre Gentry after they had a messy marital challenges which saw them going the separate ways for some months now.
The issue was based on allegations of domestic violence meted on the actress by her hubby and it even landed Lanre in prison for a while.
After several allegations by Mercy that her hubby has been coming behind to apologise to her, Lanre has decided to make it public as he was bold enough to beg her for forgiveness.
"For peace to reign, I'm going to bury all hatchets and break the bone of contention between myself and Mercy Aigbe Gentry. I'm sorry to those who I've hurt with my action and comment/words. Mercy, you claimed that I'm begging you behind curtains, OK here I am begging you openly. I'm sorry!!! This drama is exhausting and I'm done with it all.
"Despite all that's been happening; I don't love you less. I still see you as the mother of my children and I want to give you the respect to that regard. Thanks to each and everyone who's preached peace; may God perfect all that is yours.
"Special thanks to Adeola Kujenya, Chief Alao Adeniji, @laidebakare @iyaboojofespris @toyin_Abraham @sunnymelody1 @babakanran @deleodule_ @abamog @terryyenn I truly appreciate you. God bless you and God will grant all your heart desires. Also to my family members & my children thanks for the unending love and support God bless us all!!!! Amen"