APC Debunks False Alarm Raised By Fayose: President Buhari Not Dying, Not On Life Support, Nigeria's Ruling Party Says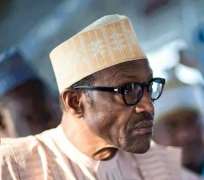 Nigeria's ruling party declared on Thursday that President Muhammadu Buhari, who has been treating himself in London since May 7, was not dying or on life support, as claimed by the controversial governor of Ekiti state, Mr. Ayodele Fayose.
The ruling All Progressives Congress, APC, said President Buhari was recovering very well, urging Nigerians to dismiss the mischievous noise raised by Govenor Fayose.
APC Chairman, John Oyegun, said "reports we have from the doctors are very good, he is recovering very strongly".
Mr. Fayose released a shocking statement on Wednesday with unverified claims, saying without evidence that the President had been on life support since June 6.