Osun Govt describes Market women protest as unfortunate
... says Osunwon Omoluabi is here to stay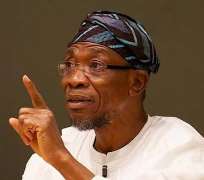 Following the protest of some market women in Osun State on Thursday against the Osunwon Omoluabi, the weighing scale introduced by the State Government, the Government has replied that the scale was here to stay.
The market women had blocked the popular Olaiya Junction all through to the state Secretariat to protest against the Osunwon which they claimed had shorten their wares.
In a release signed by Director,
Bureau of Communication & Strategy Semiu Okanlawon, the state government stated that it will stop at nothing at ensuring that every stakeholder is made to buy the noble culture.
According to the release, "Osun has done everything to make Osunwon Omoluabi an acceptable Philosophy in Commerce
"The attention of the Government of Osun has been drawn to a protest embarked upon by some market women at the secretariat Osogbo today.
"Their protest was ostensibly to press home their rejection of the use of the standard weight and measure (Osunwon Omoluabi) which the government introduced last year as part of the efforts to standardize commercial transactions in our state.
"We consider this rather to be sad, unfortunate and totally uncalled for.
For the avoidance of doubts, Osunwon Omoluabi was launched in Osun precisely on June 13, 2016 to bring equity, Justice and fairness in all forms of commercial transactions within the territory of Osun.
"It was done to restore confidence in both the buyer and the seller. It was done to eliminate all forms of distrust, acrimony and tensions associated with buying and selling.
Above all it was a move by the current administration to bring our commercial transactions at par with the most civilized and acceptable norm on commerce across the globe.
"We recall that long ahead of the 2016 public presentation of Osunwon Omoluabi, this government embarked on a massive public enlightenment, stakeholders engagements and full elucidation of the philosophy behind the introduction of the standardized measure.
"As a responsible government, we have given ample room for all stakeholders to be sufficiently prepared for effective take off and full implementation of this scale and measure policy.
"It is therefore a surprise that attempts by officials who sought enforcement of the use of the scale and measures in some markets on Tuesday and Wednesday were resisted by some.
"We have assured all, including the women who protested today, that the government means well and should there still be a few who are not at home with this new culture we are trying to encourage and enforce, the government will stop at nothing at ensuring that every stakeholder is made to buy into this noble culture."