Security Agencies Shouldn't Develop HBP over Elections- Osun CP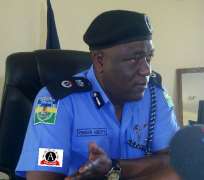 The Commissioner of Police, Osun State Command, CP Olafimihan Adeoye has expressed that it is improper for security agencies either at the Federal or State level to develop High Blood Pressure (HBP) whenever an election is approaching.
He noted that Politicians should be matured and relate like brothers and sisters during election and not see the process as a do or die affair.
The CP said this during a Press Conference with the political parties that would be contesting in the fast approaching Osun West Senatorial Election.
The parties present at the conference include The All Progressives Congress (APC), Advanced Congress of Democrats (ACD), Social Democratic Party (SDP), National Conscience Party (NCP) among others.
CP Fimihan said the conference was to solicit for the support and cooperation of the parties during the election so as to avoid rancour or disorder.
His words, "This is just a reminder to refresh our memories, I know we are conversant with the rules of the game but it is necessary to remind ourselves of the need to have a firm grip on our supporters so they don't disturb the electoral process.
"I implore all the parties to ensure none of their supporters constitute any threat to the election. I am not issuing any threat but we should know the law is not a toothless dog. If any supporter goes against the law, such person would be fully investigated."
The Police Commissioner also assured the parties there would be maximum protection and equal treatment of all the parties during the election.
He promised that the force would respond to emergencies as quickly as possible in respective of the party that made the call.
He added that he would be looking forward to send congratulatory messages to all the parties for their peaceful conduct during the entire process.
Addressing the parties too, the Director of State Security, stressed that the security agencies are working with the parties so as to have a free and fair election that would be acceptable to all.
He thereby ordered the parties to submit their contest details within the next two days and also bring their candidates to the DSS headquarters for the profiling of such candidate within the next one week.