(Christian Religious Studies (CRK) Hasn't Been Scrapped, It's Compulsory For Christian Students – Fg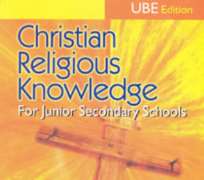 The Federal Government has clarified that Christian Religious Knowledge, CRK, is compulsory for all Christian students, just as Islamic Religious Studies, IRS, is for Muslim students, adding that persons out to destabilise the country were behind rumour that the subject had been removed from secondary school curriculum.
The Minister of Education, Adamu Adamu, stated this on Wednesday while addressing State House correspondents at the end of the Federal Executive Council, FEC, meeting presided over by Acting President Yemi Osinbajo.
He said, "I read in the papers that they asked the acting president to confirm if the report that CRK had been removed from the curriculum is true.
"There is no truth in that at all. It was just somebody's imagination probably somebody who wanted to raise tension in the country after the Biafra issue and then the quit order given by some young people in the north, so the person just followed suit trying to stoke the embers of religion. There is no truth whatsoever in that. I repeat, no truth in it.
"There was a policy in 2012 which was given effect in 2014, that is even before this government came in. One of the things I did as minister was to speak to the national council on education to disarticulate history from the social studies curricula because we believe we want our young people to know our history.
"You cannot know who you are without knowing who your ancestors were in the past. And the national council of education did accept and agreed that the teaching and learning of CRK has been made compulsory for all Christians students and teaching and learning of Islamic studies is compulsory for all Muslim students.
"So you are actually accusing the ministry of the opposite of what it has done? You to be more responsible in handling the issues especially at this time in history."
The Minister further stated that the day's council meeting discussed only a single item on the agenda, which is the roadmap on education sector and developments.
He said council members unanimously agreed that the standard of education has fallen and there is a need for a ministerial retreat to urgently address issues militating against the sector.
Adamu disclosed that council members rejected the blueprint presented by the ministry, stressing that the problems in the sector were beyond blueprint.
His words, "Today at council, we discussed many issues but the most important was education. Members agree that the fallen standard in education is so serious that we will need a ministerial retreat to look at all the issues.
"There are a lot of issues in education and all of them are crying for solution. So, there will be a ministerial retreat in the next two weeks to look at the issues and from there we will take off in what we are doing.
"Initially, we had prepared a blueprint but FEC felt the issues are beyond that because, there are crises in all the areas of education, in out of school children, in technical education and training, in ICT, in all the areas you can think of. So, ministers are going to start talking to themselves and come out with solutions."