Again Appeal Court says EFCC can't freeze Fayose's bank accounts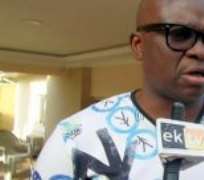 Fayose floors EFCC again as Appeal Court says anti-graft agency can't
freeze his bank accounts
The Appeal Court sitting in Ado Ekiti today, dismissed the application
filed by the Economic and Financial Crimes Commission (EFCC) for
injunction restraining the Ekiti State Governor, Mr Ayodele Fayose
from operating his accounts in Zenith Bank Plc, describing the
application as lacking in merit.
The Appeal Court said that; "EFCC did not come with clean hands on the
application for injunction it filed because it suppressed material
facts, for example that a similar application the EFCC filed was
earlier refused by Justice Taiwo Taiwo of the Federal High Court, Ado
Ekiti," agreeing with Governor Fayose's Counsel, Chief Mike Ozekhome
(SAN) that the entire application filed by the EFCC counsel, Rotimi
Oyedepo was entirely unmeritorious.
On December 13, 2016, Justice Taiwo Taiwo of the Federal High Court,
Ado Ekiti had ordered the EFCC to immediately unfreeze the accounts of
Governor Fayose, saying the action of the EFCC was against due process
and that the anti-graft agency did not follow the laid down
regulations in freezing the governor's accounts.
EFCC had appealed the judgment of the Federal High Court and sought an
injunction, restraining the governor from operating the accounts
pending the determination of the appeal.
Dismissing the appeal today, the Appeal Court, in a unanimous ruling
delivered by Justice Fatima Omoro Akinbami said that the EFCC did not
attach notice of appeal and the Federal High Court, Ado Ekiti judgment
of December 13, 2016, which ordered the anti-graft agency to unfreeze
the governor's account that the EFCC appealed against.
The court also said that the alleged damning intelligent report by the
EFCC, which it claimed to have received concerning money purportedly
paid into Governor Fayose's account by Senator Musiliu Obanikoro was
not provided nor attached for the court to see.
The appeal court agreed with Governor Fayose's counsel, Chief Mike
Ozekhome (SAN) that "Fayose, being a sitting governor covered with
immunity under Section 308 of the 1999 Constitution as admitted by
EFCC counsel, Rotimi Oyedepo, has been shown to have been tried nor
found guilty by any court of law such as to tagged his bank accounts
as proceeds of crime."
The court described EFCC's claim on the receipt of an intelligent
report concerning money purportedly paid into Governor Fayose's
account by Senator Musiliu Obanikoro as mere speculation, saying; "the
court does not embark on speculation."
The appeal court also held that since the EFCC had admitted that N80
million had already been withdrawn from the accounts, saying that
Chief Ozekhome was right to say that the cat had already been
completed and an injunction cannot be granted for act already
completed.
Describing the judgment as another victory over tyranny, Chief
Ozekhome hailed the judiciary for standing firm in protecting rule of
law in the country.
He said EFCC must learn to act within the laws of the country and stop
hiding under anti-corruption fight to commit illegalities.