Nigeria Guild of Editors condemns ethnic acrimony, agitations for sovereignty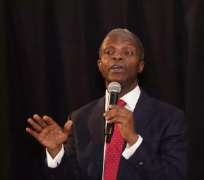 The Nigerian Guild of Editors has condemned the rising spate of decisive tendencies along regional lines in the country, while noting with dismay the measured silence by different leaders of the affected ethnic cleavages.
In a statement by the Guild after its second quarterly meeting which held in Lagos  Friday. It was signed by the Guild's president Funke Egbemode and secretary Victoria Ibanga.
According to the statement, "the Nigerian Guild of Editors held its second quarterly meeting on June 16, 2017 in Lagos and resolved as follows:
1. The Guild condemns the hate speeches from different sections of the country and calls for restraint and tolerance among Nigerians, stressing that the country remains stronger together.
2.   The Guild notes that those sowing seeds of discord should realise that they are not just destroying the dreams of the nation's founding fathers but the progress we have made over the years as a nation; their actions have the capacity to alter the destiny of Nigeria negatively.
3.        The Guild reminds the hate agents that as major stakeholders in the Nigerian Project, Editors and Journalists fought for the enthronement of the current democratic dispensation, with some paying the supreme price, to birth a constitutional government.
4.        The Guild regrets that elders from different parts of the country kept quiet for too long, which allowed the youths to take over the socio-political space and brought the nation to the present situation. The Guild urges the elders across the country to always keenly take interest in the affairs of the nation, rather than play the ostrich.
5.        The Guild also urges Nigerians to ignore those agitating for the dismemberment of the country and to go about their businesses without fear or let, and focus more on repositioning the country for present and future generations.
6.        The Guild appreciates the firm and decisive intervention of the Acting President, Prof. Yemi Osinbajo, which has calmed the situation and urges the government to do more.
7.        The Guild notes that the Inspector-General of Police, Ibrahim Idris, has been issuing orders to his men to get these persons arrested but is worried that no commensurate action has been taken. It urges the Police to be more responsive and pragmatic.
8.        The Guild commends the Nigeria Police Force for the arrest of the kidnap kingpin, Chukwudi Dumeme Onuamadike and other kidnappers and urges that they should do more to ensure the release of the abducted pupils of Igbonla Model College, Epe in Lagos State, who have been missing for more than three weeks now.
9.        The Guild notes and condemns the overzealousness of operatives of the Economic and Financial Crimes Commission (EFCC), and other security agencies against the media. At all times, duties come with deep responsibilities that must be upheld."