PHOTOS FROM THE PRESIDENTIAL VILLA 05-27-2010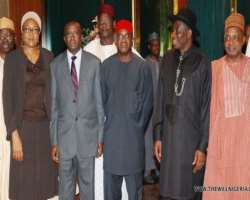 PHOTO: L-R: VICE PRESIDENT SAMBO, PRESIDENT JONATHAN, SENATE PRESIDENT MARK, SENATOR NDOMA EGBA AND SENATOR CHRIS ANYANWU WHEN THE SENATE LEADERSHIP PAID JONATHAN A CONDOLENCE/CONGRATULATORY VISIT.
San Francisco, May 27, (THEWILL) – Nigeria's Senate President, Senator David Mark led a Senate delegation to the Presidential Villa to formally deliver a letter of condolence to President Goodluck Jonathan on behalf of the Senate over the death of former president, Umaru Musa Yar'Adua.
The senators also congratulated the President on his swearing in as President and Commander-In-Chief.
Also today, the Benue State Governor, Mr. Gabriel Suswan led a delegation from Benue State on a congratulatory and solidarity visit to the President.
Also at the villa today were the United States of America Under Secretary of State for Democracy and Global Affairs, Maria Otelo and the US Ambassador to Nigeria Ms. Robin Sanders.