HHWA: TOMORROW'S IS THE D-DAY!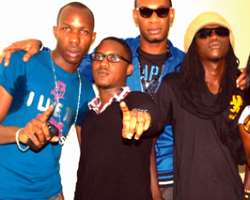 L-R: Skuki, Ice Prince, Dprince, General Phyp, Mochadda and The Headie
In just a matter of hours, it'll be time again, for Nigeria's biggest music honours event – the Hip Hop world Awards. It'll be time again, for true celebs and wannabes to put on the glam, and storm Nigeria's most elaborate red carpet. It'll be time again, for boos and cheers, props and flops and goofs and gaffes.
After months of intense preparations, the HHWA will now enter year five, tomorrow Saturday May 29. Tomorrow is a very important day, for many reasons. When the awards debuted in 2006, the biggest pop/hiphop stars were 2face Idibia, D'Banj and P-square; the 'biggest' events venue in Lagos was the MUSON Centre; and Nigerian acts were not in anyway the biggest on the continent. But that was five years ago. Today as you read, the biggest nominees for the awards are the likes of Wande Coal, Terry G, Dagrin and Bracket who were nothing but unsure upcomers when HHWA started.
Today, the New Exhibition Hall of Eko Hotel is standing, as events experts who have for years, lamented the lack of a proper entertainment events venue, finally heave a sigh of relief.
To tell the story of HipHop World Awards, really, is to tell the story of the Nigerian music scene from 2006 to date – the good the bad, and the ugly. There was not one surviving major music awards when HHWA debuted. Today, there are many local and continental awards shows, doing brilliantly in their own rights, and throwing up many talents that could have gone uncelebrated.
And the challenge, really, is to maintain credibility and integrity, in an environment where almost everyone is compromised. Just like it is with the music 'industry,' the challenge for HHWA, is to ensure proper quality control, growth and continuity, in a place like ours, where standards are dropping by the day, and a-thousand-and-one so-called Nigerian factors are daily snuffing the life out of laudable initiatives.
How do you continue rewarding excellence, without attempting to insult the word, when the quality of music continues to dwindle with each passing day? How do you continue staging a show to die for, when getting big-budget sponsorship is as difficult as INEC conducting free-and-fair elections? How do you stage Grammy-like shows when the venues at your disposal are better suited for literary and debating society days? How, even do you stage a hitch-free show, when it's certain that PHCN will strike or the generator may pack up or a technician might fail to do their job properly?
Hiphop World has been trying to show us how, since 2006; and tomorrow, we're hoping they'll come out in flying colours again; hoping they'll move beyond past glories and achieve fresh feats that'll elicit ooohs and aaaaahs.
What do we expect to see tomorrow? Performers dropping from the roof? A surprise speech from Jay Z via satellite? An elaborate Yellow carpet suspended on the swimming pool at Eko Hotel? Or a human-sized headie robot walking on stage to introduce himself as the host of this year's show? Yes? Why not!
However, no matter the level of stunts the organisers pull; no matter the colour and glamour and superior content they're sure to deliver, what true fans will wait and watch out for, is the final list of winners – that, as a matter of fact, is the most important aspect of the show; the one aspect that'll determine what the audience mood would be, when the show ends and everyone heads home.
So, who do you think will win what? Or rather, who should win what? In a category like Next Rated, for example, where a brand new car is at stake, who do you think deserves to be the next big thing? Skuki? Jesse Jags? Mo Cheddah? D'Prince? Or Pype? And who deserves to be crowned the overall artiste of the year? Darey? Wande Coal? Terry G? Bracket or the late Dagrin? Tomorrow, that's when we know!
Who's doing what
Host – None
Performers: Wande Coal, Terry G, Jimmy JATT, Kel, Dark Poet, Sage Hasson, Kaffy, Kefee, D'Prince, Obiwon, Timaya etc
Publicity: BlackHouse Media (BHM)
Presenters: Keke Ogungbe, Azuka Ogujiuba, Dayo Adeneye, Tosyn Bucknor, Darey, Kunle Bakare, Toyin Subair, MI, Funmi Iyanda, Steve Ayorinde.
Sponsors: MTN
Judges: To be announced at the event
Live Broadcast: Hitv
Set: Total Consult
Production: Jungle Filmworks
What Celebs are wearing
'I'm putting on a long cocktail dress' OAP and writer, Tosyn Bucknor, who will also be presenting an award on Saturday says. The dress, according to her, 'was designed by Sasha's Eclectic, I'm so excited because this is the first time I will actually be dressing up to Hiphopworld Awards, I can't wait.
'My outfit for this year's awards will be designed by Mai, I won't step on that yellow carpet not looking good, you can take my word on that,' Banky W, host for last year's award who is up for three nominations this year says.
Singer, Omawumi: 'Can't tell the colour or length of what I am going to be putting on right now, but Monami is designing, but I am sure it is going to be a long dress this time.
'My outfit is being put together by Fusion's Korede Roberts, I really don't know what it looks like right now, but I am sure it is going to be nice,' multiple nominees, Darey Art Alade, tells e-Punch.
For winner of 2008 MTN project fame, Iyanya, 'I'm bent on looking good, but it looks like nearly all designers are booked for Hiphopworld Awards, so I decided to get my suit from a boutique, and it is really nice.'
MTV VJ, Cynthia Okpala, 'Wanted Mai to do my outfit, but he has a lot on his hands right now, so I'd just go ahead with what I have at home, it is really nice and unpredictable, you have to wait till that day to see it, and a new Cynthia will be mounting that yellow carpet…'
Rapper, Kel, who attended the awards last year dressed in a long black and grey dress will be dressed in a short red and black dress this year. Designed by Mai Atafo, Kel who is up for two nomination says, 'I am going to be dressed to kill this year. I don't want to be penciled down as one of the worst dressed at all. Last year, I was one of the best dressed at Hiphop World Awards in a reputable ewspaper, I don't intend to fall below that.'