FG MAY ALTER KEY 2010 BUDGET ASSUMPTIONS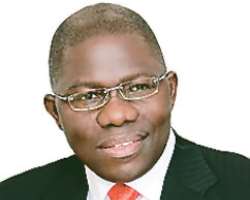 Minister of State for Finance, Mr. Remi Babalola
The Ministry of Finance may seek parliamentary approval to alter key 2010 budget assumptions to better reflect global energy prices and the country's crude oil output.
The Minister of State for Finance, Mr. Remi Babalola, disclosed this in Abuja on Thursday.
The ministry had raised the alarm earlier this month that government revenues, mostly from oil sales, were not enough to fund this year's expansionary spending plans and could force the Federal Government to use its entire windfall oil savings.
Babalola told Reuters that the ministry would propose revisions to the budget assumptions for the oil price, crude production and naira exchange rate.
The 2010 budget, signed into law last month, assumes a global oil price of $67 a barrel, crude oil production of 2.35 million barrels per day and an exchange rate of N150 to the United States dollar.
Babalola said, 'If you put the exchange rate at N150 and the current market rate is N146, what that means is that you are making a loss. That is why we are saying it should be at actual market rate or below it.'
Analysts welcomed Nigeria's efforts to protect its savings and confront its fiscal deficit, which could grow to more than five per cent of Gross Domestic Product under this year's N4.6tn budget.
'This is a positive step, signalling that President Goodluck Jonathan is taking greater initiative and his administration is taking seriously Nigeria's growing deficit problem,' Africa analyst at Eurasia Group, Rolake Akinola, said.
Babalola also said that the finance ministry would seek to lower the budget's 2.35 million barrels per day oil production estimate.
'It will not be at a level that is above current production. I won't give a figure now,' he said.
Insecurity in the Niger Delta has prevented the country from pumping more than two million barrels per day for a sustained period of time.
Babalola confirmed talks to lower the benchmark oil price in the budget to $55 from $67 a barrel.
A senior lawmaker told Reuters on Wednesday that members of the House of Representatives were considering the oil price revision.
The Governor of the Central Bank of Nigeria, Mr. Lamido Sanusi, had warned that the 2010 Budget should not assume an oil price of above $60 a barrel, saying such an assumption was unrealistic.
He was also sceptical about an existing assumption in the budget of daily oil output of 2.35 million barrels per day, cautioning that this was over-ambitious given persistent security problems in the Niger Delta.
According to him, 'We have always said the budget assumption of $67 a barrel is unrealistic.
'We are happy it has been reviewed now because it means reality has dawned on the politicians. To assume $67 a barrel and 2.3 million barrels a day was overly optimistic, given both global and local developments.'
Meanwhile, the country's foreign reserves dropped to $39bn this week from $40.48bn at the beginning of April, the CBN said on Thursday.
The bank said that despite the slump in the reserves level, it could finance 18 months of imports.
Sanusi had earlier predicted an improvement in the level of foreign reserves.
He said in March that if the rising prices of crude oil in the international market was sustained and there was an increased output in local oil production, there would be an improvement in the level of foreign reserves.