Chidoka Endorses Obiano's performance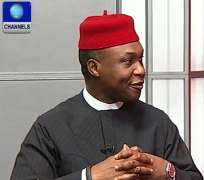 The outstanding performance of Governor Willie Obiano of Anambra State in three years which has earned him wide-spread commendations and endorsements from within and outside the State has also attracted endorsement by former Minister of Aviation, Chief. Osita Chidoka.
Chief Chidoka who recently abandoned the hemorrhaging Peoples Democratic Party (PDP) and took his gubernatorial ambition to the United Progressive Party (UPP) made the candid assertion on Channels Television discussion programme Hard Copy on Saturday night.
In a rare display of honesty alien to many opponents of Obiano, the incumbent of Anambra, Chief Chidoka while answering question posed by the programme anchor person, who sought his opinion on the massive endorsements for good performance already garnered by Obiano had this to say:
"Yes it is true that Governor Obiano has tried, but I am aspiring to be governor in other to bring something new…."
Chidoka's acknowledgement of the good being done by governor Obiano was seen as an acknowledgment of the thinking of Ndi Anambra that the governor should be allowed to continue in office for another term of fours so as to complete and sustain the legacy of good governance which the state which prides itself as the Light of the nation has enjoyed in the past eleven years.
Reacting to the development, Vice Chairman Electrical Dealers International Market Obosi, Chief Chukwuma Agbainnwa said that it a sign of good politics to acknowledge good work even if done by an opponent. "Everybody can attest that Obiano has done well in security, agriculture and infrastructure development and needs to be returned to finish the job. It is also noteworthy that Chidoka, who still has age on his side, was sincere unlike the APC aspirants who are busy looking for where to conquer without proof of having better ideas. Anambra is much wiser today." He stated.