Gana preaches Gospel of Peace to Children at 2017 Children's Day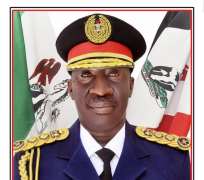 The Commandant General of the Nigeria Security and Civil Defence Corps Alhaji Abdullahi Gana Muhammadu has urged children to live in peace and harmony as well as embrace one another as one great family created by God.
Children's Day is an annual event which comes up every 27th of May and observed across the globe.
Gana encouraged children to show love and embrace one another and promote sustainable peaceful coexistence and also shun violence.
He also advised parents, guardians, political actors, agitators and co-players to embrace peace towards nation-building as children are monitoring them carefully.
The Commandant General advised parents to caution their children from anything that could lead to the breakdown of law and order in the society, as Corps will continue working to ensure peaceful conduct of citizens in discharging our mandate especially in the protection of Critical Infrastructure and National Assets and the protection of the Civil populace without compromise," he said.
"Thuggery, vandalism, malpractices, violence are inimical to the growth of the nation and they are against the law of the land, therefore children should shun all these vices and embrace peace for peace to reign, for the law is no respecter of anybody; says Gana,".
ACC EMMANUEL OKEH
CDPRO