NNPC finalising $6bn oil swaps deals for Petrocam, Mercuria, others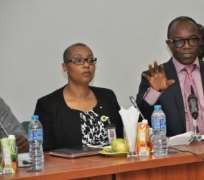 As part of efforts to stimulate the repositioning of the downstream sector and sustain supply of petroleum products across the country, the Nigerian National Petroleum Corporation (NNPC) is in the final stage of signing $6 billion worth of deals to exchange 330,000 barrels per day (bpd) of crude oil for imported premium motor spirit (petrol) and diesel.
The contracts, which come three months later than expected, include three more pairs of companies than last year, bringing the total number of paired companies to 20, thus reflecting Nigeria's increased reliance on NNPC for fuel imports.
A lack of local refining capacity means Nigeria is reliant on imported gasoline, kerosene and other petroleum products, and the oil price crash, exchange rate differentials and militant attacks on Nigeria's oil industry have starved independents of dollars for fuel imports.
At least four of the 10 groups have signed contracts, set to begin from July 1, with the rest expected to do so by Friday, sources said.
The 10 companies approved for the deal are: Petrocam-Rainoil/Falcon 33,000 bpd; Trafigura-AA Rano 33,000 bpd; Crest-Mocoh-Heyden 33,000 bpd; Cepsa-Oando 33,000 bpd, Sahara-SIR 33,000 bpd; Mercuria Matrix-Rahmaniya 33,000 bpd, Socar-Hyde 33,000 bpd, Litasco-MRS 33,000 bpd; Vitol-Varo 33,000 bpd and Total-Total 33,000 bpd.
However, Italy's ENI and India's Essar, which were in the 2016 list did not feature this year, while Socar and Mercuria, which were not in last year's list, are included in this year's contract.
Minister of State for Petroleum Resources, Dr. Emmanuel Ibe Kachikwu stated recently that "In today's world, without the refining capacity we need to meet inland demand, we use crude oil through a mix of swap and Offshore Processing Agreement (OPA). We have since migrated to Direct Swap Direct Purchase (DSDP) scheme which is where we exchange goods for value and import PMS into the country."
The fuel quality in the final agreements was not immediately clear, but July 1 is the same deadline the country set for switching over to higher quality, lower sulfur fuels that create less toxic fumes. Sulfur levels were a major sticking point in the negotiations.
The Ministry of Environment and the Standards Organization of Nigeria, the body responsible for setting requirements for imported goods, promised a switch to 150 ppm gasoline and 50 ppm diesel.
Some sources said the new standards would be applied. Others reported that three different gasoline specifications- 1,500 ppm, 500 ppm and 150 ppm would all be included in the contracts, giving NNPC options on which to import.
This year's deal includes international trading houses, not just oil refineries. The 2016 contracts included only companies with refineries in an effort to cut out middlemen.
NNPC has recorded commendable performance in service delivery and product supply and distribution in recent times. It has done what it is supposed to do as supplier of last resort at great cost in terms of absorbing the uncontrollable market shocks and the cost elements that ultimately build up the price at the pumps.
Source:
M&P