Senate raises concern over NNPC, CBN, 34 others over non-submission of 2017 budget proposals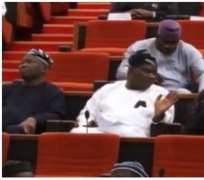 The Senate on Tuesday raised  concern over the failure of federal agencies to submit their 2017 budget proposal to the National Assembly in line with extant law for consideration and approval.
The issue was raised by Deputy Senate Leader, Senator Bala Ibn Na'Allah, at the plenary.
Na'Allah said it was wrong for agencies to spend money that has not been appropriated by the legislature.
He told the Senate that he intended to bring the issue to the floor as a motion so that Senators will understand the implications and the need to assist the government to fight corruption.
Among the agencies, which were supposed to submit their budget proposals for approval by the National Assembly, but failed do so include the Nigerian National Petroleum Corporation; Central Bank of Nigeria; Bureau of Public Enterprises; National Agency for Science and Engineering Infrastructure; and Nigerian Airspace Management Agency.
Others are Nigerian Shippers' Council; National Maritime Authority; Raw Materials Research and Development Council; National Sugar Development Council; Nigerian Postal Service; Nigerian Ports Authority; and Federal Airport Authority of Nigeria,  among others.
The Senate President Bukola Saraki concurred with him, saying that  the practice where agencies of government spend money without statutory approval by the National Assembly, ruled that the issue be debated and resolution taken by the Senate.
According to Saraki,  "We are already in May. How can parastatals be operating without a budget, especially in this time of the fight against corruption to ensure that there is transparency in governance? We need to take this matter seriously because clearly, these agencies are just flouting the guidelines and breaking the law.
"This is a very serious issue because, as we all know, in line with the Fiscal Responsibility Act, their budgets are meant to have been submitted to the National Assembly since August 2016. They were supposed to have come with the appropriation document.
"We have now passed the 2017 budget without the budgets of the parastatals. I think this matter really needs to come up as a motion because this is a very serious matter. We need to debate it.
"Leader, this is a very important issue and we must debate it tomorrow (today) and if there is any committee that has received budget documents from agencies they oversee, then they will have the opportunity to at least clear the parastatals and agencies, that have sent their budgets.
"But if as at the middle of May, we are saying we have not received any budget from them, then which money are they spending and with what authority? We need to look into that and take a decision may be they can only pay salaries until they bring their budgets here and approvals given."